Orpah P. Lewis, Chester County , Pennsylvania , 1825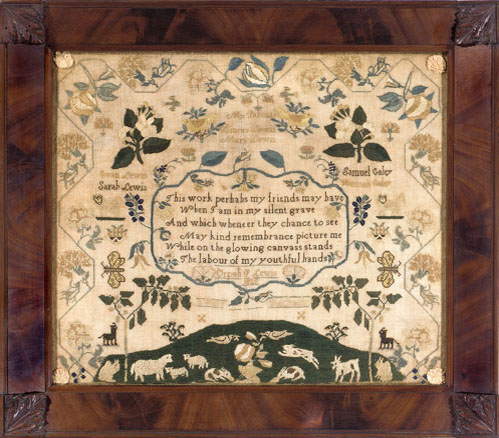 sold
Samplermaking in Chester County, Pennsylvania enjoyed a flourishing in the 1820s and 1830s when a group of large and extravagant samplers featuring lawns of romping animals, fine center cartouches, listing of family members and excellent arcaded borders were made. These samplers share much in the way of composition but of course, some of the samplermakers showed greater aptitude than others just as some of the teachers were more talented than others. We are privileged to offer Orpah P. Lewis's outstanding sampler which is one of the most exuberant and fully developed of its type. Orpah shared credit by including the name of her teacher, Mary Richards, on her sampler and this will likely lead to further scholarship regarding this Chester County group.
Orpah P. Lewis was from early and prominent Quaker families on both sides, although by the early 19th century they were no longer recognized by the Friends Meeting. The family lived in Radnor, Delaware County, right at the Chester County line. Her father, Phineas Lewis, was a son of Evan and Sarah (Hunter) Lewis. The Lewis family descended from William Lewis (1636 – 1708) who settled in this area by the late 17th century. Phineas married Mary Caley, daughter of Samuel and Hannah (Reese) Caley, on December 19, 1805 at Christ Church in Philadelphia. The couple lived in Radnor Township and bore twelve children; Orpah was their third child, born circa 1808. Orpah married John G. Craig of Marple Township in Delaware County, and they became the parents of four children, remaining active in the area.
Betty Ring writes about this group in Girlhood Embroidery, vol II, and states that these exceptionally large pictorial samplers in their elaborate mahogany frames became major decorations in the front halls or family parlors of Chester County homes. We can be certain that this would have applied to Orpah Lewis's sampler.
The sampler was worked in silk on linen and is in excellent condition with its original silk rosettes in each corner. It has been conservation mounted and is in its excellent original mahogany frame with carved corner blocks.