Sarah Ralston Jones, Wilmington, Delaware, 1822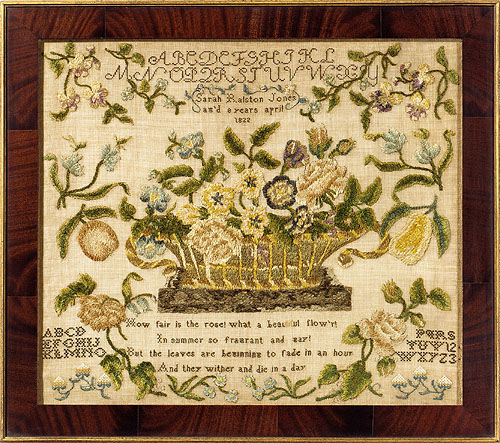 sold
A most remarkable piece, this large and very beautiful sampler was worked by a young girl from an illustrious Wilmington, Delaware family. Sarah Ralston Jones's needlework portrays a splendid basket of flowers worked predominantly in fine silk chenille which creates a highly appealing texture and energy. The sampler shares salient features of its composition with other known Wilmington samplers, but this overwhelming use of chenille is highly unusual, as is the effusive composition of its naturalistic subject matter.
Sarah Ralston Jones was the daughter of Morgan Jones, an attorney, and Mary Hemphill, who were married in Wilmington, Delaware in 1808, and who had two sons and two daughters there. Morgan Jones was from Craven County, North Carolina and Mary Hemphill was the daughter of a distinguished merchant of Philadelphia and Wilmington, William Hemphill (1743-1823). Mr. Hemphill was a partner in a vast shipping business with Robert Ralston (1761-1836) of Philadelphia, one of the most successful merchants of his day, with ships trading in the West Indies, France, Ireland and China. According to the History of Delaware 1609-1888 by J. Thomas Scharf, Mr. Hemphill became "a large land-holder in Wilmington and was interested in and contributed much to its business prosperity." The Historical Society of Delaware contains The Hemphill Papers, correspondence regarding the family's shipping and trading, concentrating on the sugar and rum trade in the late 18th and early 19th centuries. The prominence of the Hemphill family and its affiliation with Robert Ralston, who seems likely to have been Sarah's godfather, allow for the complete and fascinating family history that accompanies this outstanding sampler.
Records from the First and Central Presbyterian Church of Wilmington chronicle the births and deaths within this family and allow us to confirm that Sarah Ralston Jones was born in April of 1814. She was only 8 years old when she worked this extraordinary sampler in April of 1822. Quite sadly, Sarah died later that year, on September 30, at age 8 years 5 months. Much is known about the adult lives of Sarah's brothers and sister, as they also held leadership positions in their communities and in national government.
Sarah was clearly a highly talented needleworker, adept with chenille but equally accomplished in her tiny cross-stitched lettering and queen's-stitched strawberries. The sampler was worked in chenille, silk and crewel wool on linen and is in excellent condition. It has been conservation mounted into a fine mahogany and gold leaf frame.