Nancy Keazer, Bird and Basket Group, Canterbury, New Hampshire, 1802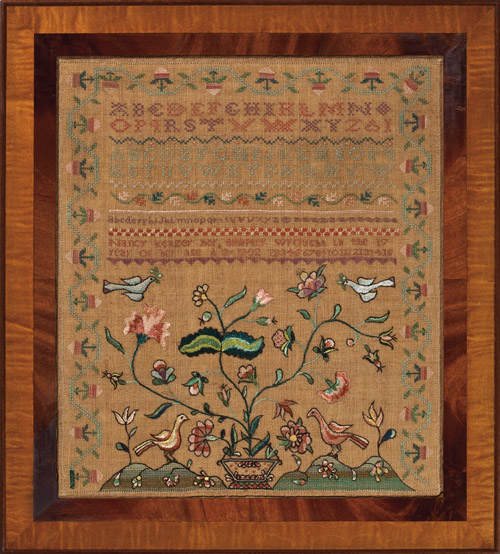 sold
The Bird and Basket Samplers, made in and around Canterbury, New Hampshire, are some of the most sought after of all American samplers. This group has been studied, researched and documented for many years, going back to a groundbreaking exhibition entitled Lessons Stitched in Silk: Samplers from the Canterbury Region of New Hampshire, at Dartmouth College's Hood Museum of Art in 1990. Defining characteristics include splendid freeform scenes of birds, some in flight, large flower blossoms springing from baskets grounded on flower-strewn hillocks and a centrally placed leafy green plume. On the best of the samplers from this group, these elements are outlined in black stitches, a technique that lends a handsome weight to each component.
The schoolgirls who made these samplers lived in towns along the Merrimack River, such as Canterbury, Loudon, Northfield, Sanbornton and Gilmanton. While they likely attended a few different schools, the shared compositions and techniques produced an outstanding aesthetic that endured for over forty years.
We are delighted to offer this, a newly discovered addition to the Bird and Basket Sampler group and one with enormous aesthetic appeal. It is signed, "Nancy Keazer her Sampler Wrought in the 17 Year of her age A D 1802;" Nancy was clearly an experienced and very talented needleworker.  The daughter of Edmund and Mary (Lyford) Keazer, residents of Northfield, she was born on March 20, 1786. 1780-1905 History of Northfield New Hampshire Part II Genealogies, by Lucy R. H. Cross (Concord, NH, 1905), indicates that the Keazer family lived in Canterbury prior to the establishment of Northfield in 1780. The Keazer family in America began with George Ebenezer Keysar (1610-1690) who emigrated from England to Massachusetts in 1637.
In 1810, Nancy married, as his second wife, Capt. Edward Osgood who was also from an early Northfield family. Mr. Osgood was a noted stonemason and the family remained in Northfield where they raised a family of six children. After her husband died in 1841, Nancy removed north to Coos County and died there in 1861, at age 75. She is buried in the Lyman Cemetery in Columbia, New Hampshire.
Nancy's sampler remained unframed for over two hundred years and is in pristine condition. Worked in silk on linen, it has been conservation mounted and is now in a fine maple and mahogany frame.
Sampler size: 17¼" x 15"     Framed size: 21½" x 19¼"