Margaret Laskey, school of Mary Zeller, Philadelphia, Pennsylvania, 1795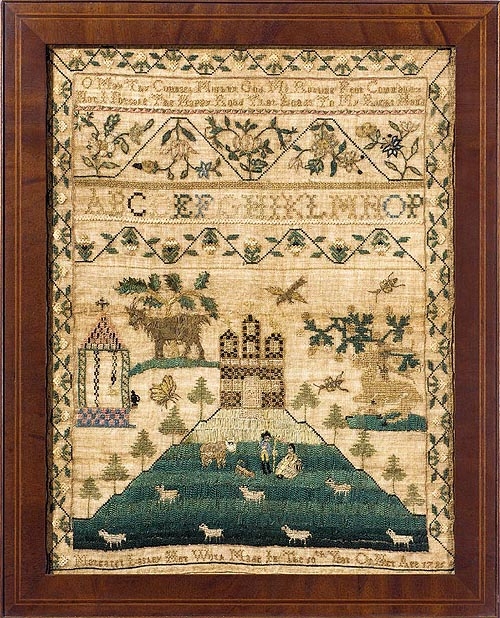 sold
A small and highly significant group of pictorial samplers was worked at the school of Mary Zeller in Philadelphia in the late 18th and early 19th centuries. These samplers were worked on a large scale and feature excellent composition and needlework; Betty Ring in Girlhood Embroidery , vol. II describes these samplers as "easily recognized by airy, asymmetrical motifs that float in random arrangement above her balanced terraces and lend a feeling of ebullient spontaneity to her compositions. Her tree-lined stepped terraces are usually surmounted by … a black and orange castle." Mrs. Ring further indicates that other pictorial images found on these samplers may include the shaggy goat, milk cow, well house, reclining stag, small shepherd couple and various sheep, dogs, birds and butterflies. The 18 th century Zeller school samplers may include a beautifully work horizontal band of flowers in a deep arcade, reminiscent of mid 18 th century Philadelphia sampler design. It is a privilege to offer this praiseworthy sampler made in 1795 by Margaret Laskey, the newest discovery and an important addition to the group. It compares favorably to the known Zeller school samplers, offering strong composition and color, as well as interesting family history.
Margaret Laskey was born in 1785 and died, unmarried, at age 24 years of age in 1809. She was the daughter of Edward Laskey, a victualler, and his wife Catherine who lived on Mulberry Street and belonged to St. Michael's and Zion Lutheran Church where their children were baptized. Edward Laskey was evidently very successful, as is evident from their papers; the inventory of Margaret Laskey indicates that she owned a valuable piano forte. The administration of her will includes payment to Dr. Wistar, a physician of considerable reputation in Philadelphia . The sampler was left to Margaret's sister Rebecca Laskey Oldenbergh and descended along with Oldenbergh family papers.
Worked in silk on linen, the sampler is in excellent condition with very minor loss at a horizontal fold line. It has been conservation mounted and is in a fine mahogany frame with inlay.