Mary F. Wisler, Columbia, Lancaster Co., Pennsylvania, 1826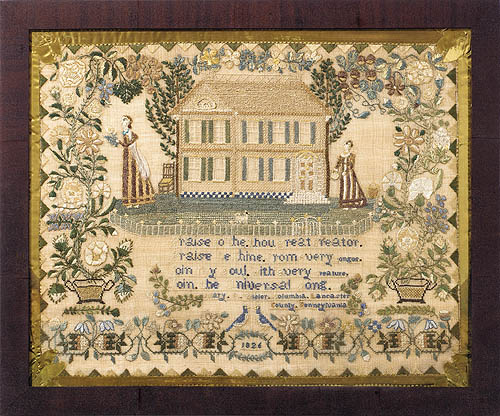 sold
Mary F. Wisler of Columbia , Pennsylvania , created this exceptional and important sampler in 1826, a portrayal of a fine Federal house with two tall ladies on a lawn, enclosed within an elaborate and finely worked border. It is closely related to a sampler made one year earlier and published as figure 475 in Betty Ring's Girlhood Embroidery: American Samplers & Pictorial Needlework 1650 – 1850 , vol. II. These extraordinary samplers were likely worked under the instruction of Sarah McCardell, as discussed by Mrs. Ring. While many fine pictorial samplers were made in Pennsylvania in the 1820s and 30s, few present the combination of excellent needlework and folky subject matter presented on this example.
The history of the Wisler family in Columbia , Lancaster County began with Michael Wisler, grandfather of the samplermaker. Michael Wisler was born in Montgomery County , Pennsylvania (close to Philadelphia ) in 1756, his parents having emigrated from Alsace-Lorraine circa 1740. He served in the Revolutionary War in Henry Christ's Rifle Company participating in the battles of White Plains , NY , Princeton , Trenton , Brandywine and Germantown . Settling in Columbia , a fine town along the banks of the Susquehanna River in Lancaster County , Michael set up a brickyard and prospered there. Amongst his nine children was Lewis, born 1780, who married Anna Forrey and the sixth of their ten children was Mary F. Wisler, born circa 1816. She married a stonemason, Robert Harry, and they remained in Columbia where Mary died in 1871. The sampler remained in the family until 2009.
The unusual and very effective side borders of the sampler are formed from the lush flowers and leaves on thorny vines that grow out of the two-handled baskets; the bottom border is a series of large queen's-stitched strawberries linked together with the a pair of bluebirds atop a leafy cartouche surrounding the date. Other details include the glass beads used for the eye, earring and necklace of the taller lady. The sampler was worked in silk and glass beads on linen and it retains its original green silk ribbon. It is in excellent condition and has been conservation mounted into its original mahogany frame.