Sally Pickman Turner, Marblehead, Massachusetts, 1806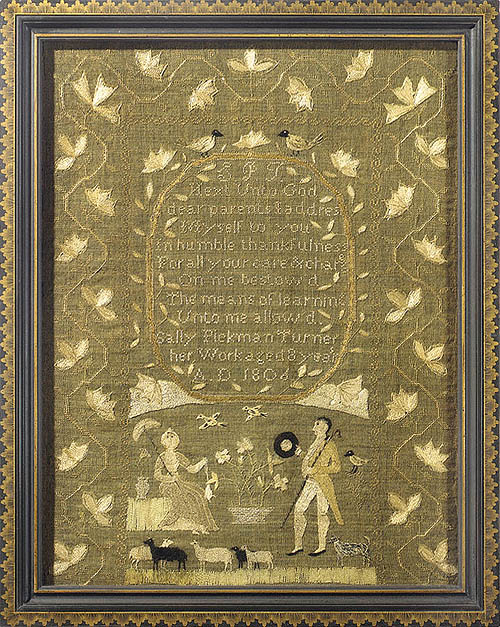 sold
The pictorial samplers of Marblehead, Massachusetts are widely acknowledged to be amongst the most exceptional of all American samplers.  Betty Ring, in vol. I of Girlhood Embroidery, writes at length about these samplers, stating that they "represent American girlhood embroidery as its best…. (capturing) the spirit of optimism in the new nation as well as the climate of their town."  Within the overall group from Marblehead are several linsey-woolsey samplers made between 1804 and 1807, outstanding and large samplers depicting variations of the same couple, some with sheep and each featuring the same verse in which the maker thanks her parents for making her education possible. Sally Pickman Turner's sampler is a newly discovered addition to this important body of work and is most closely related to the 1807 sampler by Mary Sparhawk shown as figure 159 in Girlhood Embroidery.
The palette used is both delicate and handsome, with lustrous beige and pale yellow used predominantly and black used sparingly to punctuate. The depiction of the lady and her gentleman friend would have understandably interested the thirteen-year-old samplermaker, who paid particular attention to the posture of each figure as well as their accoutrements: the parasol and reticule, the riding crop and top hat. The birds, dog and sheep were all carefully arranged as well.  Sally worked her initials above the verse as did the other makers of samplers in this group and, interestingly, they each also worked a backwards version of the letter "N."
The Marblehead vital records indicate that Sally was born in 1793 to Samuel and Sally (Pickman) Turner, who were married there in 1793.  In 1817 she married Samuel Stacey Trefry, also of Marblehead and they became the parents of 11 children born between 1820 and 1843.  Sally died in the same town at age 94.
The sampler was worked in silk on linsey-woolsey, a fabric woven of linen and wool and generally olive green in color.  It is in excellent condition and has been conservation mounted into a fine stencil painted frame.