Margaret Jane Arbuckle, Mary Tidball School, Allegheny County, Pennsylvania, 1847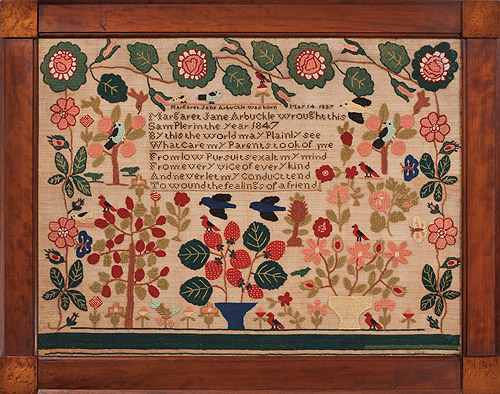 sold
This wonderfully folky and very large sampler was made by Margaret Jane Arbuckle when she was ten years old and attending the school of Mary Tidball, south of Pittsburgh, Pennsylvania. The school was located next to the Presbyterian Church at Bethel Park, located in Peters Township, in the southern suburbs of Pittsburgh.
Much is known about the maker who was the daughter of Thomas and Margaret (McDonald) Arbuckle, Scottish immigrants who settled in Allegheny County in the 1820s. Margaret was born on May 14, 1837 and states this on her sampler. One of her brothers, John Arbuckle III, born in 1839, went on to become a highly successful coffee magnate; he and his business are the subject of a book, Arbuckles The Coffee That Won The West. There has been a great deal published about the family.
The 2007 exhibition, Made in Pennsylvania: A Folk Art Tradition at The Westmoreland Museum of American Art in Greensburg, Pennsylvania, documented well the samplers made at the school of Mary Tidball, between 1834 and 1854. Writing in the book of the same title, Harley N. Trice, informs us that, the Mary Tidball School is the best known western Pennsylvania needlework school. Samplers made at this school, only 14 of which are known, are large, highly-stylized, and sometimes brightly colored; some contain the names of the students' parents and/or instructor, Mary Tidball. Betty Ring, in Girlhood Embroidery: American Samplers & Pictorial Embroideries 1650-1850 vol. II (Knopf, 1993), characterizes the samplers made at the Tidball School as including, big, bold flowers and exotic trees, stating that this striking group of large samplers was worked in Washington County during the final years of the schoolgirl needlework era.
Early Mary Tidball School samplers display a pale blue and green palette in a vertical composition. Beginning circa 1840 and continuing through 1854, the samplers were transformed, by Mary Tidball no doubt, and from 1840 forward were worked in a strong and clear color palette of bright reds, greens and blues. Dynamic, folky pictorial images included many large birds, pots of strawberry plants and hummingbirds borders with enormous flowers and large veined leaves, became the focus. These exuberant pictorial elements, worked in merino wool, contrast nicely to the neat lettering of the inscription and verse, which were worked in silk. Tidball School samplers are widely considered to be the single most sought-after group of folky Pennsylvania samplers; Margaret Jane Arbuckle's sampler, worked in 1847, is a new discovery, unknown to Mr. Trice and Mrs. Ring. We feature another sampler from this school, by Jane Huey, which includes a house and is an interesting comparison.
The known Tidball School sampler that most closely resembles this one was made by Leah Young, also in 1847. It was in the Esmerian Collection and is published in American Radiance as plate 261 and Betty Ring's Girlhood Embroidery, vol II as figure 520. Margaret's sampler is a much more successful and interesting composition.
These later Tidball School sampler are always very large and Margaret's is true to form. Worked in wool and silk on linen, it is in excellent condition and has been conservation mounted into a cherry and maple corner-block frame.
Sampler size: 25" x 33"    Framed size:  30¾" x 39¾"
This sampler is from our archives and has been sold.