Greenwood Seminary, Terrell and Morton family, Virginia, circa 1825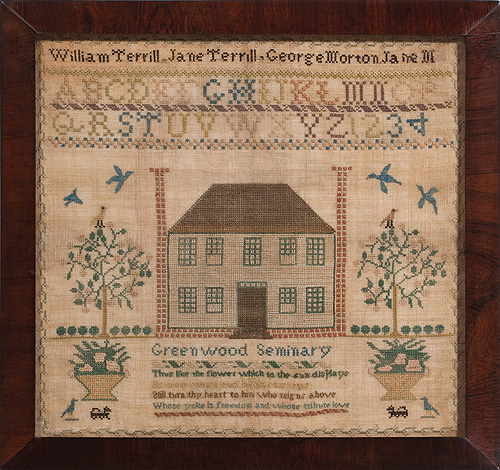 sold
We are pleased to offer this important Virginia sampler, worked circa 1820 and part of a small, highly significant group, called "The Open Window Samplers." Each sampler in this group depicts a large house with tall brick chimneys and many windows. The pictorial scene on our sampler dominates the sampler wonderfully – the stately, hip-roofed house has two tall and elegant chimneys joined with brickwork that forms the base of the building. Fruit trees with birds perched atop and low round bushes below flank the house with four blue birds soaring over the scene.
The Open Window Samplers were all worked in Orange, Hanover and neighboring counties of Virginia in the years between 1817 and 1848. Colonial Williamsburg curator Kim Smith lvey in her book, In the Neatest Manner: The Making of the Virginia Sampler Tradition (The Colonial Williamsburg Foundation, 1997) was the first to document and name this group, publishing other samplers from this group that were also worked at Greenwood Seminary. Our excellent sampler, made by a member of the Terrell-Morton family of Orange County, Virginia, is an important addition to this body of work.
The four names inscribed along the top of the sampler are those of the four grandparents of the maker. The Terrell Genealogy, by Emma Dicken (The Naylor Company, 1952) indicates that Reuben Terrill (b. 1784), son of William and Jane Terrill, married Susannah Morton (b. 1786), a daughter of George and Jane Morton, in 1805. Information about this family is also included in Marriages of Orange County Virginia 1747-1810 (complied and published by Catherine Lindsay Knorr, 1959). One of the three Terrill daughters, Elizabeth, Nancy and Keturah, born between 1808 and 1815, would have been the maker of this sampler. It shares all of its salient characteristics with three of the published examples from this group, figures 127, 128 and 130 in In the Neatest Manner: The Making of the Virginia Sampler Tradition, including the name of "Greenwood Seminary" which appears on figure 127, an 1817 sampler made by Mary Tomlin of Hanover County. Ms. Ivey notes that an 1811 advertisement names a teacher who was quite possibly responsible for these samplers, a Miss Terrel, and we hope that further research will reveal specifics regarding this outstanding group.
Worked in silk on linen, the sampler is in excellent condition and has been conservation mounted into its fine original rosewood veneer beveled frame.
Sampler size: 16" x 17"      Framed size: 19" x 20"      
This sampler is from our archives and has been sold.