Mary Coffin, Newburyport, Massachusetts, 1801 Provenance: Ralph O. Esmerian Collection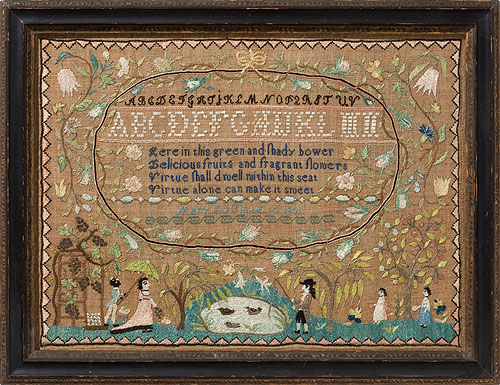 sold
It is a privilege to offer this extraordinary sampler, an important example with enormous visual appeal and provenance of great significance. Part of a group called the "Shady Bower" samplers, a name that stems from within the verse, this was made by Newburyport resident, ten-year-old Mary Coffin. The outstanding, highly-developed pictorial scene on her sampler, with its enormous vitality, is considered to be the finest within this group. Depicted is a couple centered on a shimmering duck pond, the elegantly dressed lady is shielded from the sun by a servant holding a parasol. The gentleman, equally well–attired, is occupied with a fishing rod, a nod to the early Boston needlework pictures that often depicted gentlefolk at leisure activities in the country. Two other young ladies, many trees and a grape arbor complete the scene. The composition is very successfully framed by large flowers on elongated branches and a graphic pink and black sawtooth border.
The sampler was published in American Radiance: The Ralph O. Esmerian Gift to the American Folk Art Museum (AFAM 2001), figure 256. Writing about Mary Coffin's sampler in this important book, Betty Ring states, "The schools of Newbury and Newburyport, Massachusetts, produced several groups of extraordinarily handsome samplers and silk embroideries during the federal period. Ten-year-old Mary Coffin's sampler is one of the most colorful and appealing examples worked within a group of eleven pieces produced in Newburyport between 1799 and 1803…. These samplers have been attributed to the Newburyport school kept by Miss Mary Emerson (1753-1815) with her sisters Elizabeth (1760-1853) and Martha (1764-1827)." Betty Ring also included the Coffin sampler in her Girlhood Embroidery, vol. I (Knopf, 1993), illustrating it as figure 135. While part of the collection of the American Folk Art Museum, this sampler was exhibited in "Every Picture Tells a Story: Word and Image in American Folk Art," in 1994 and 1995.
 The oval enclosure, stitched with intertwined leafy and flowering vines, and tied by a double bowknot at top, frames the alphabets, verse and the inscription, "Mary. Coffin. AE. 10. 1801." Born in 1790, Mary Coffin was the third of twelve children of Newburyport military officer, merchant and shipmaster, David Coffin (1763-1838) and his wife, Elizabeth Stone (1767-1811). Mary married Newburyport merchant Nathan Noyes, Jr. in 1815, and their seven children were born between 1816 and 1834. Mary died in 1864.
Worked in a rich color palette, the sampler was stitched in silk on linen and is in excellent condition. It has been conservation mounted and is in a fine 18th century carved and painted frame. 
Sampler size: 15¼" x 20¾"      Framed size: 18½" x 24"
This sampler is from our archives and has been sold.
M. Finkel & Daughter is widely considered to be America's leading dealer in the field of antique samplers. The world of schoolgirl needlework, generally from the 18th and early 19th centuries, provides fascinating opportunities to collectors, scholars, curators and those who admire this fascinating work. An antique sampler acts as a window into the specific history of a young girl, her family, her school, an instructress or teacher, a town, a region and a tradition, and as such provides us with unusual insight. It goes without saying that these antique samplers, from a simple marking piece to an elaborate scene, are also extremely visually appealing. This archive provides information about the many thousands of antique samplers handled by Amy Finkel and her father, Morris Finkel, over approximately 40 years. Click here for current inventory.