Dolly Sheller Leah Galligher school, Lancaster, Pennsylvania, 1800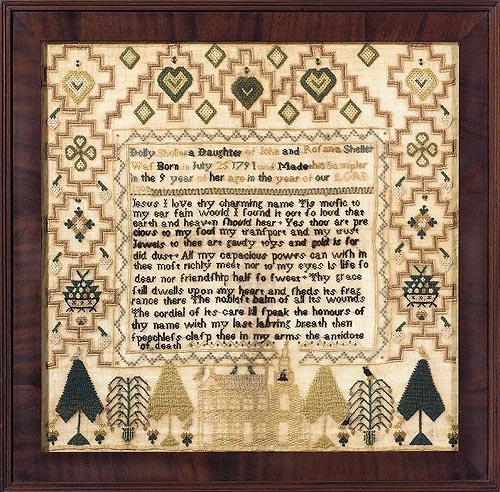 sold
We are pleased to be able to offer this praiseworthy sampler made by Dolly Sheller, a daughter of John Sheller, a baker, and his wife, Rosana Sheller of Lancaster , who married in 1783. Dorothea, also known as Dolly, was their fourth child, born in 1791. When only nine years old she made this fine sampler, which is typical of the exemplary work created under the instruction of four highly talented instructresses working in the Susquehanna Valley in the late 18 th and early 19 th centuries. Dolly attended the school of Leah Galligher who is credited with establishing the regional characteristics as early as 1797. Three years later Dolly worked another sampler, also at the school of Mrs. Galligher , and this example is published in Betty Ring's Girlhood Embroidery , vol. II, figure 460.
This sampler features the classic composition of Susquehanna Valley samplers: inscription and text fills the large central square, three borders are filled with elements such as hearts, baskets, flowers and berries, finely stitched and surrounded by step-designed borders. The bottom border of these samplers depicts a pictorial scene of a building, perhaps a church, a home or in the case of another published example (figure 459 in Girlhood Embroidery ), the Lancaster Poorhouse. The church shown by Dolly Sheller also appears on a 1798 Galligher school sampler by Ann Susanna Riddle (figure 458) and both Ann and Dolly depicted the church doors opened; Dolly showed the full height of the church's bell tower and allowed it to interrupt the inner borders of her sampler.
Dolly married John Wind, a music master and owner of a successful music store in Lancaster . John was active in civic affairs participating on the local committees that honored John Adams and Thomas Jefferson after their deaths in 1826 and the 1832 commemoration of George Washington's birthday. Dolly and John had five children. John died in 1858 and Dolly died in 1867. In her will Dolly specifically mentioned her samplers.
The sampler was worked in silk on linen and is in excellent condition with slight weakness. It has been conservation mounted into a fine mahogany frame.
Sampler size: 17" x 17½"   Framed size: 20½" x 21"