Susannah Beninghove, Philadelphia, Pennsylvania, 1791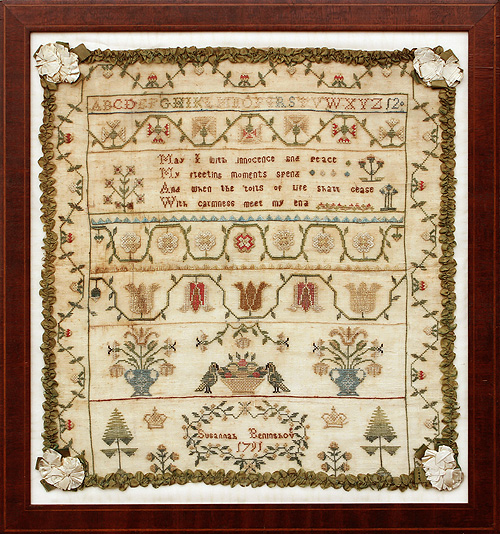 sold
Susannah was the daughter of Jacob Beninghove, Sr. (1743-1810), a prominent tobacconist of Philadelphia. She was born in 1776 to Jacob and his first wife, who died prior to 1786. Jacob then married Elizabeth Kurtz (1762-1830).
As a tobacconist Jacob was listed in many Philadelphia directories, as early as 1774, in locations alongside high-end merchants and craftsmen, on High Street (now Market Street). He counted many important Americans as his customers, including John Adams and Benjamin Rush. Occasionally in his later years he was in partnership with William Nassau, the brother of the wife of his son (and Susannah's brother), Jacob, Jr. The Beninghove family was Pennsylvania German and part of that thriving community in 18th century Philadelphia; they were members of the Lutheran church.
In 1791 Susannah worked this excellent sampler which displays a high level of proficiency in the needle arts. This type of band sampler had been popular in Philadelphia for much of the 18th century and Susannah integrated early designs along with stylish Federal elements, and surrounded it with a fine green silk ribbon with ivory silk corner rosettes.
In 1798, Susannah married Daniel Dick (1755-1814), a tailor, and they had five children born between 1799 and 1813. Daniel died in January of 1814 and Susannah died just 6 months later, both of consumption. They were both buried at St. John Lutheran Church Ground at Fifth and Race Streets and later removed to Laurel Hill Cemetery in 1924, when the entire graveyard was relocated to clear land needed to build the Ben Franklin Bridge. Susannah's will designates that her step-mother, Elizabeth was to care for their five young children.
The sampler was worked in silk on linen and retains its original silk ribbon and rosettes. 
Sampler size: 17½" x 16½"      Frame size: 22" x 21"