Nabby Fitch, Norwich, Connecticut, 1766Provenance: Collection of Susan B. SwanPublished: Betty Ring, Girlhood Embroidery,Susan B. Swan, Plain & Fancy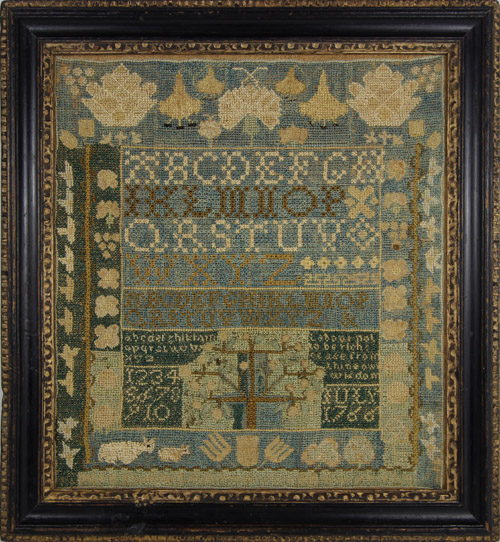 sold
A handful of very appealing samplers was made in Norwich, New London County, Connecticut in the 1760s and 1770s. These pre-Revolutionary pieces share excellent characteristics and together form an important group. The samplers are small, relatively square in format and solidly stitched, so that all of the linen is covered with needlework. Their compositions are nicely crowded with flower blossoms and stylized trees, borders and alphabets. Betty Ring published information about this group in Girlhood Embroidery: American Samplers & Pictorial Needlework, 1650-1850, vol. I (Knopf, 1993), and illustrated two samplers, one of them is our praiseworthy sampler made in 1766 by Nabby Fitch (figure 228). Other of these Norwich samplermakers used varying shades of browns or blacks as their predominant color; Nabby's use of blues and greens created a sampler with even greater visual appeal. Mrs. Ring noted that Nabby added what was then a new element to her composition, the two sheep in the lower left corner.
Significantly, this sampler was in the personal collection of the late Susan B. Swan for many years and then was passed onto her son until just recently. Mrs. Swan was the long-term curator of textiles and needlework at Winterthur Museum and author of Plain & Fancy: American Women and Their Needlework 1650-1850 (Curious Works Press, 1995), in which she too included this Fitch sampler (p.81, plate 4). The sampler is signed, "Nabby Fitch her sampler made in the 9th year of her age," in the bottom band and it is dated July 1766 to the right of the tree. 
Nabby's parents were Ebenezer Fitch (1724-1797) and Mary Huntington (1728-1798) who married in Norwich in 1750, They had eleven children, including their fourth, Abigail, who was born on August 4, 1757. She used the nickname Nabby throughout her life, as evidenced in many of the town records. On March 13, 1788, Nabby married John Post (1763-1837). They remained in Norwich where their four children were born between 1789 and 1796 and Nabby died at age 40 in 1798. Further information is known regarding the families, and the file of research that accompanies this sampler contains copies from many sources including a published family genealogy, early town records and Connecticut church records.
The sampler was fully worked in silk on linen and it remains in excellent condition. It has been conservation mounted and is in an 18th century frame. A photo taken of the back of the sampler prior to conservation indicates that it retains its original color.
A comparison to this sampler can be made with the very similar Norwich sampler, dated 1765, that was in Betty Ring's collection and published as the companion piece from this group in Girlhood Embroidery (figure 227). It was sold at the Sotheby's auction of the Ring collection in 2012, as lot 567, for $37,500.
Sampler size: 11" x 10"      Framed size: 13½" x 12½"