Abigail Davis Gloucester County, New Jersey, 1820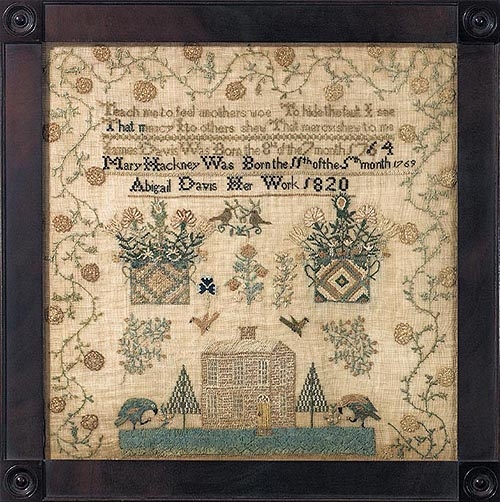 sold
The samplers of Burlington and Gloucester Counties form what is widely felt to be one of the most sought after types of American samplers.  They can include folky scenes with strong personal characteristics and are generally worked by schoolgirls with substantial talent. Abigail Davis' sampler is one of the more important of these samplers to come to light in recent years.  Abigail, a twelve year old from a Quaker family residing in the small town of Almonesson, may have attended school in nearby Burlington County as the influence of that area is much in evidence on this praiseworthy sampler.  
The beautifully realized brick Federal house is flanked by pine trees and large, animated parrots.  Flowers spring from the pair of square flower pots which were fully worked in the queen's stitch, requiring exceptional skill. The graceful curvilinear border, in classic Burlington County fashion, is well designed and executed. The inscription includes a quotation from the Universal Prayer by Alexander Pope, noted English poet.  Abigail also recorded the births of her parents using the phrasing of the Quakers, "Born the 11th of the 5th Month."
 Born on August 15, 1808, Abigail was the eighth of nine children of James Davis (1764-1853) and Mary Hackney Davis (1769-1832).  Information about this family was published in the Bulletin of the Gloucester County Historical Society, June 1956, and indicates that our samplermaker Abigail died in 1828 at age 20.  The 1832 will of James Davis is in the collection of the New Jersey State Archives and a copy of it is included in the research file which accompanies this sampler along with other various family papers and announcements. Abigail's sampler was published in the 1921 book, American Samplers by Bolton & Coe; interestingly, even at that early date the sampler was in the hands of a prominent collector.
Worked in silk on linen, it is in excellent condition and has been conservation mounted into a mahogany cornerblock frame.