Lydia Burrill, Salem, Massachusetts, circa 1800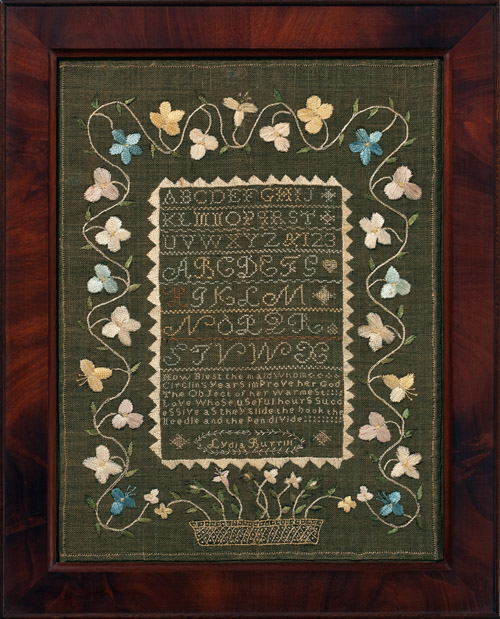 sold
Betty Ring, writing in Girlhood Embroidery, Vol I (Knopf, New York, 1993) stated that, "A growing preference for samplers worked on a green ground (usually linsey-woolsey) became noticeable at the turn of the century. They appear on Boston as early as 1788, and later throughout New England … they were especially popular in coastal regions from the northern shore of Massachusetts to southern Maine." The use of this richly colored ground, a combination of linen and wool, created samplers with strong visual appeal, as the pale colors of the silk floss contrast beautifully as evidenced by this praiseworthy example by Lydia Burrill. Her sampler very closely resembles others known and they form a small, important group that was worked in Salem, Massachusetts at the end of the 18th century and very early in the 19th century.
Shared characteristics include this precise composition and identical elements – a low diamond-patterned basket with graceful curvilinear vines and pale ivory, yellow and blue flowers. A large central sawtooth framework contains alphabets and the same classic verse, carefully worked, "How Blest the maid Whom Circling Years improve Her God The Object of her Warmest Love Whose useful hours Successive as they glide the book the Needle and the Pen divide." We refer specifically to the sampler made by Lucy Nichols and dated 1800 offered in our Catalogue XIX, as the comparison is striking.
Ezra Burrill (1746-1797), a cordwainer by trade, married Anna Breed (1746-1792) in 1770 in Lynn, Massachusetts. Their daughter Lydia Burrill, the fifth of their nine children, was born on February 26, 1779. By about 1784 the family resided in Salem. On April 23, 1811, Lydia married Joseph Emerson (1776-1826) of the nearby town of Topsfield, as was reported in the Salem Gazette. Both the Burrill and Emerson families had deep roots in Massachusetts, with family members there from the mid-17th century on. Joseph Emerson and Ralph Waldo Emerson shared an ancestor four generations back. 
Lydia and Joseph lived in Topsfield and had one child, a daughter, Harriet Josephine Emerson, born in 1813. Joseph died in 1826 and Lydia lived as a widow for many years. She died in 1865 and is buried, along with her husband, in the Pine Grove Cemetery of Topsfield.
Of particular note is the fact that Lydia worked another sampler in Salem in 1789 when she was ten years old; this sampler has been known to scholars in the field for many years as it was in two renowned collections, sequentially, that of Theodore H. Kapnek and of Joan Stephens. Lydia's earlier sampler was worked on beige linen and, while also outstanding, displays a decidedly younger hand.
The sampler was worked in silk on linsey-woolsey and is in excellent condition. It has been conservation mounted and is in a fine mahogany frame.
Sampler size: 19½" x 15"      Framed size: 24" x 19½"
This sampler is from our archives and has been sold.