Mary Ann Crown Middletown, Dauphin Co., Pennsylvania, 1836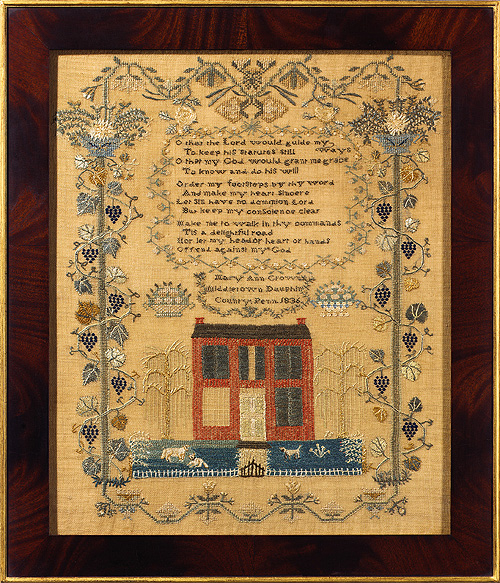 sold
Some of our favorite samplers are those made in the Susquehanna River Valley of Pennsylvania in the 1830s, where needleworkers created folky samplers that are highly charged with strong aesthetics and were executed with outstanding skill. Mary Ann Crown, who was 13 years old in 1836, worked this splendid piece with its stately red house set on a brilliant teal blue lawn. The lawn is populated with a pair of sheep and a dog, and is defined along the bottom with a crisp white fence and wrought iron gate. The side borders of this sampler are extraordinary; narrow columns are wrapped with grapevines and embellished with silvery leaves and bunches of luscious deep blue grapes. Baskets of large white blossoms and leafy fronds sit atop the columns.
Mary Ann Crown worked her sampler with great delicacy. The fine needlework lavished onto details such as the leaf veins and tendrils, the wispy willow trees, the buds and leaves of the cartouche enclosures and the finely wrought lettering throughout create an unusually refined sampler.
Born in 1823, Mary Ann was the daughter of Thomas and Catherine Ann (Meyers) Crown of Middletown. Pennsylvania Germans with roots in this area nearby Harrisburg. She married a distiller, Jacob Scholl, who was born circa 1820 in Switzerland, and they remained in Dauphin County.
The sampler was worked in silk on linen and is in excellent condition; it has been conservation mounted into a fine mahogany frame with a gold leaf bead.