Lois Killam, Boxford, Massachusetts, circa 1820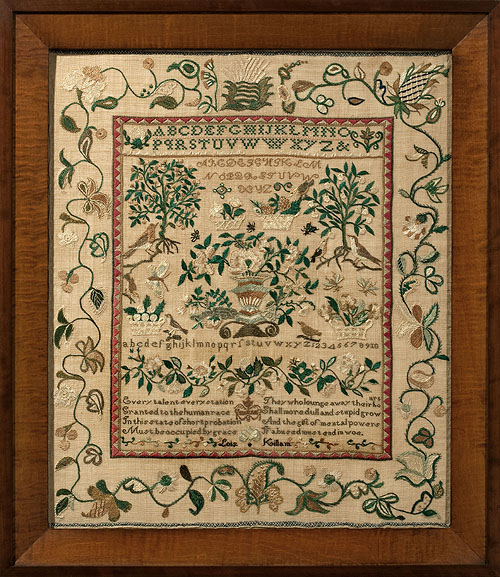 sold
Splendid needlework and whimsy characterize this large, outstanding sampler, which was made by Lois Killam of Boxford, Massachusetts. A plethora of pictorial work fills the interior, which is framed by a narrow red and gray sawtooth border, and the wide outer border is of a quality and interest rarely found. While other Boxford samplers bear resemblance to this piece, there is a fresh, folk quality to the composition that holds enormous appeal and renders it very unusual. Images such as the large birds perched on the roots of the two fruit trees, assorted bugs and large butterflies, birds pecking at baskets of fruit animate the sampler well. The great variety of arrangements of flowers, garlands of flowers and vining borders of flowers provided Lois with a wonderful opportunity to demonstrate her skill.                                                                                                                                                                                                                     
Born on March 19, 1808, Lois was the eldest of ten children of Samuel and Lois (Holt) Killam of Boxford, 26 miles north of Boston. The Killam family had resided there for many generations and much information is published in various town history books and family genealogies. The Killam land was part of a 550 acre grant given to Governor John Endicott in 1639; 100 acres and a house and barn were conveyed to Thomas Killam in 1701 / 02, after the marriage of a granddaughter of the Governor to a Killam ancestor. The Dwellings of Boxford, by Sidney Perley (The Essex Institute, 1893), indicates that Lois and family lived on this family homestead. We can estimate that this sampler was made when Lois was approximately 12 years old. In 1828 she married William Hale Herrick (1806-1858), a farmer, also of Boxford. They became the parents of three sons and, as a widow, Lois continued to live on this farm with her son Israel, a successful farmer and mill owner, his wife and their children. Another son, William Augustus Herrick, became a highly distinguished lawyer in Boston.
The sampler was worked in silk on linen and is in excellent condition, and has been conservation mounted into a maple and cherry frame.
Sampler size: 21" x 17¾"      Frame size: 25½" x 22¼"