Susan H. Munson, "Potosi", New York or New Jersey, 1824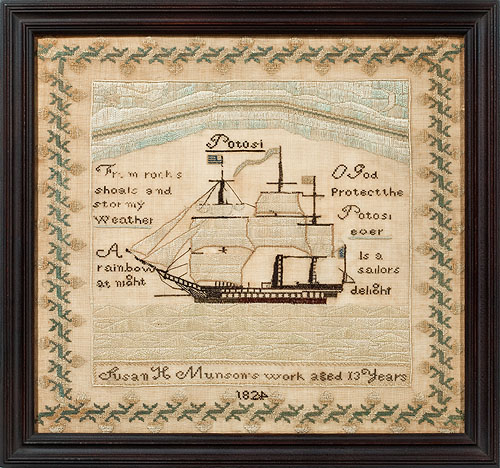 sold
This extraordinary sampler, worked by Susan H. Munson, is the only known American example of its type – a detailed portrait of a specific ship. Its rarity was first acknowledged when it was illustrated on a full page of the seminal book, American Samplers, by Bolton and Coe, published in 1921 by the Massachusetts Society of the Colonial Dames of America, as figure LXXXII. The samplermaker included many specific nautical details in her portrayal of this frigate: three masts each with three yard arms, gun ports on its hull, American flags flying on the foremast and gaff, reef points on the sails and a homeward-bound pennant flying on the main mast. Additionally, the verse reads, "From rocks shoals and stormy weather O God protect the Potosi ever / A rainbow at night is a sailor's delight." The ship is centered in a handsome composition, enhanced by the rippling waves of the ocean water below and the stylized clouds arcing above, with the sun and moon deftly inserted.
Susan H. Munson was 13 years old when she made this sampler in 1824, working the last digit backwards. She was born on November 28, 1811 to John and Mehitabel Munson; the family likely lived in New York or northern New Jersey. On June 12, 1829, at the Vandewater Street Presbyterian Church in New York, Susan, age 18, married Joseph Henry Byram (1809-1879). They lived in Troy, New York where they had seven children. Susan died on June 19, 1875 and is buried in the Oakwood Cemetery in Troy. Family information was published in Byrams in America by John Arnold Byram (Baltimore, 1996) and elsewhere. Interestingly, one of Susan's granddaughters, Susan Hegeman (1868-1940), the daughter of William and Esther (Byram) Hegeman of Troy, became an actress of national reputation. Under the stage name Beatrice Cameron she first performed on stage at Madison Square Theatre in 1886.
Susan's sampler shows characteristics that we associate with the New York area – specifically the border that surrounds the sampler on four sides, a rod wrapped with buds on a vine. Worked in silk on linen, it is in excellent condition, with very slight loss to the black silk. It has been conservation mounted and is in a molded and painted black frame.
Sampler size: 15¾" x 17¼"      Framed size: 18½" x 20"      
This sampler is from our archives and has been sold.