Abigail Shearman Newport, Rhode Island, 1764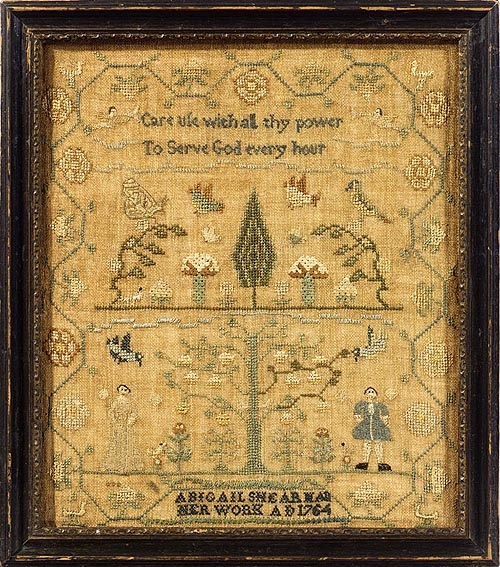 sold
Samplers and needlework produced in Providence , Newport and other towns of Rhode Island are amongst the most important of all American schoolgirl work. Highly talented instructresses and their students left a legacy that has been well documented by scholars and curators, most notably at the Rhode Island Historical Society's 1983 exhibition, " Let Virtue Be a Guide to Thee ," with its accompanying book of the same title by Betty Ring.
Abigail Shearman of Newport , working in 1764 and likely under the tutelage of Mrs. Sarah Osborn, created this excellent sampler which depicts the classic Newport lady and gentleman as well as many other regional characteristics and motifs. This sampler is one of the earliest know of its type, sharing elements with a 1773 sampler by Sarah Pope in the collection of the Newport Historical Society. It is a privilege to offer this rare sampler which holds great appeal and significance.
The Shearman family in America originated with Philip Shearman (circa 1610-1687) who was born in Essex , England and came to America in 1633. He settled initially in Roxbury , Massachusetts and later in Rhode Island when his Quaker beliefs conflicted with the political climate in Massachusetts in the late 1630s. Philip was prominent in civic affairs for many years and served as the Secretary of Rhode Island when it was formed in 1639. Abigail's parents were Peleg and Phebe (Thurston) Shearman and she was born May 12, 1752 . After Peleg's death his widow and their two daughters removed to Swansea , Massachusetts , a town at the Rhode Island border, as recorded by the Swansea Monthly Meeting. Abigail married William Lawton at that Quaker meeting 1779 and they had seven children. She died in 1805 and is buried at the Friends' Yard at Somerset . Her sampler descended in the family for many generations.
Worked in silk on linen, the sampler is in excellent condition and has been conservation mounted into an 18 th century black painted and carved frame.
Sampler size: 12" x 10¼"