Mary Benezet Wood Philadelphia, Pennsylvania, 1817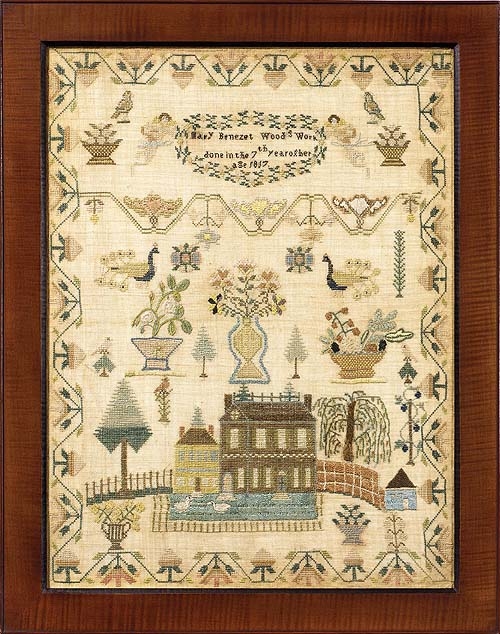 sold
It is our privilege to offer this enormously appealing sampler, which was made by Mary Benezet Wood, a member of one of Philadelphia's most interesting and accomplished families. A sampler this successful would be considered impressive for a needleworker of any age and it is rendered that much more interesting as Mary was only seven years old.
Born November 26, 1810, Mary Benezet Wood was the daughter of Joseph and Margaret (Ritter) Wood. Her maternal grandmother, and namesake, Mary Benezet (1755-1808), was the niece of Anthony Benezet (1713-1784), the renowned Quaker convert who was the leader in the Abolitionist movement in England and America. A lifelong educator and author, Benezet was the first to publish books and papers that called attention to the slave-trade and the living conditions of enslaved Africans, as well as the plight of Native Americans. The Benezet genealogy, published in 1905, states that "he industriously labored throughout a long and most useful life, to advance the best interests of mankind, in a humble and private sphere." Also credited with furthering the causes of the education of slaves and women, Benezet established an evening school in his home to teach African Americans, and in 1754 opened the first public school for girls in Philadelphia. The Benezet family was a prominent French Huguenot one, which immigrated first to Holland in 1715 and ultimately settled in Philadelphia in 1731. Anthony's younger brother, Daniel, our samplermaker's great-grandfather, was a Quaker as well, and a distinguished merchant and supporter of many civic causes.
Daniel's daughter, Mary Benezet, was born in 1755 and would have been amongst the city's most cultured young ladies. In 1772 when she was seventeen years old, Mary's portrait was painted by Charles Willson Peale who was considered the finest portrait painter of the revolutionary era in America. This portrait is in the collection of the Philadelphia Museum of Art. It shows Mary to be a refined beauty whose entire manner suggests intelligence and grace; the painting is currently on public view in the museum's 18th century American galleries. The following year Mary was married to Joseph Wood, an attorney from Georgia, and they became the parents of one son and three daughters. After the early death of Joseph Wood, Mary married Rev. Joseph Pilmore (1739-1825), the highly respected Protestant minister, who played an important role as stepfather to the children, including Joseph, father of our samplermaker.
Mary Benezet Wood married a merchant, John Ross, who was born in Delaware. They had three daughters, Mary Benezet, Josephine and Margaret Augusta, and remained in Philadelphia throughout their lives.
Mary's sampler honors her family well. The splendid and detailed scene of houses, outbuildings, trees and ducks on the lawn anchors the composition and contributes a whimsical animation. It is a large sampler with a great assortment of interesting motifs: vases of flowers, a low basket filled with fruit, a pair of peacocks and one of small parrots, as well as many little trees, flowers and other elements. The inscription is enclosed within a classic cartouche that is held aloft by angels, and the horizontal band echoes the early sampler design of 18th century Philadelphia. Mary used a variety of stitches and the workmanship is excellent throughout. The sampler was worked in silk on linen and is in excellent condition. It has been conservation mounted and is in a figured maple frame with an outer bead.