Pennsylvania German Motif Sampler,
initialed MS, Pennsylvania, 1840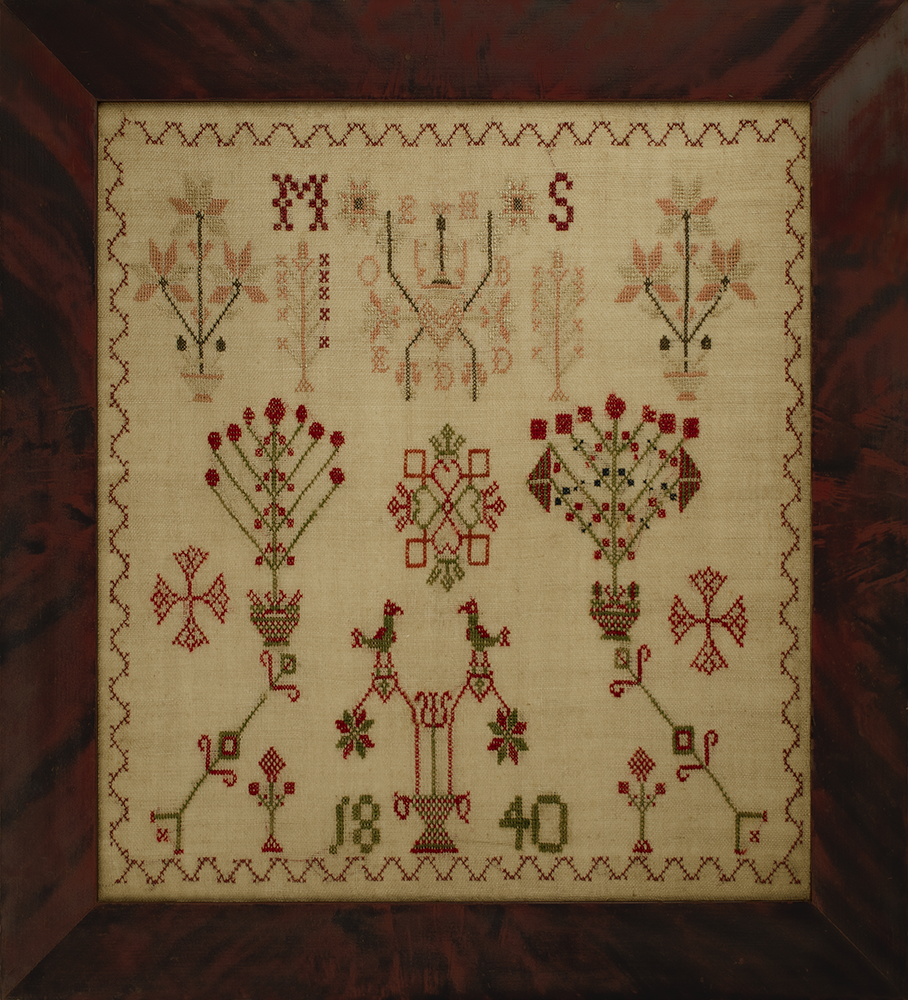 sampler size: 17¾" x 16" •
framed size: 22" x 20¼" •
sold
Motif samplers made by Pennsylvania Germans girls are particularly appealing. Distinctive motifs, often in a floating composition, can include stylized flowers, birds, corner elements and hearts. These samplers were often accomplished in the strong colors found on other decorative arts made within these various sects from these communities in southeastern Pennsylvania.
Notable in the top central area of this sampler is an interesting and well-documented motif found on other samplers of the Pennsylvania Germans. It is known by the letters, OEHBDDE, a German phrase which, in English, translates to, "Oh noble heart think on thine end." We find this stitched onto samplers and show towels and the letters will frequently appear around a stylized heart. This samplermaker included another more unusual and particularly appealing motif below that - four hearts in a geometric arrangement with squares and crowns. 
The book, Samplers of the Pennsylvania Germans, by Tandy and Charles Hersh (The Pennsylvania German Society, 1991) is an excellent resource that we turn to for specific information about these samplers. 
The sampler was worked in wool and silk on linen, and is in excellent condition. It has been conservation mounted and is in a fine mid 19th century paint decorated frame.