Mary Ann Clark,
Burlington County, New Jersey, 1812
Provenance: Susan B. Swan Collection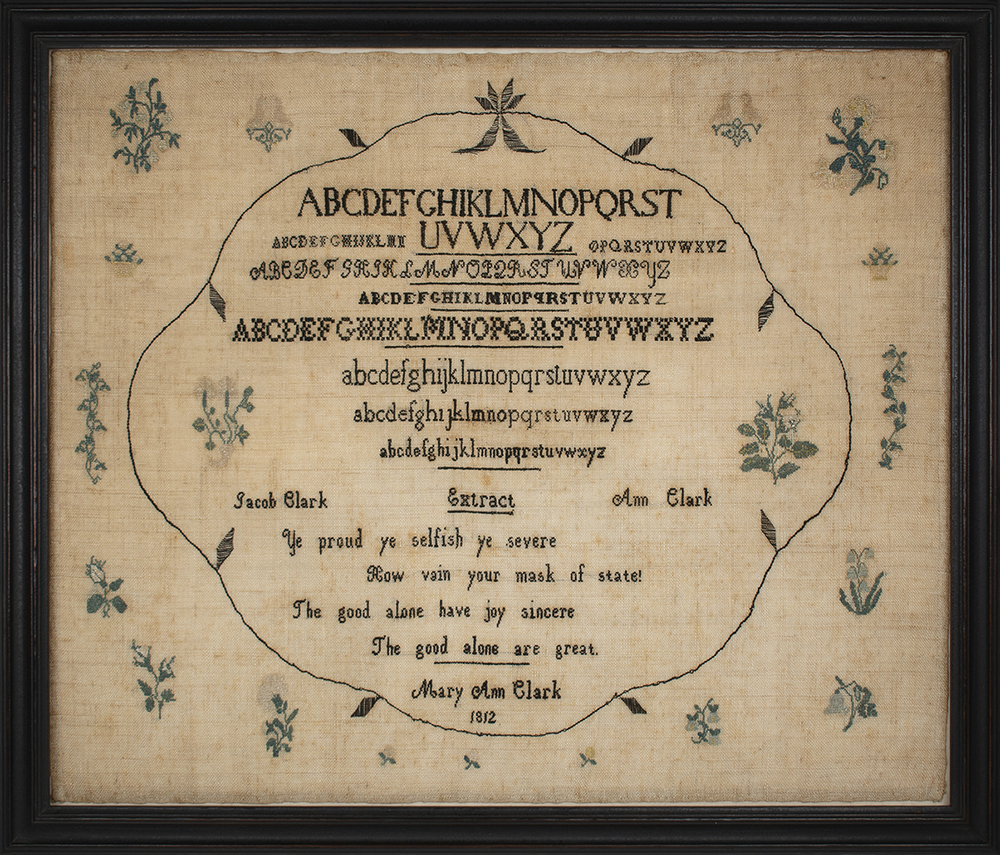 sampler size: 17¼" x 20½" •
framed size: 19¾" x 22½" •
price:
$6400
Quaker samplers made in the first quarter of the 19th century in New Jersey and Pennsylvania are widely admired for the strong graphics and the precise skill demonstrated by the samplermakers. The provenance of this outstanding sampler is equally important as it was in the personal collection of the late Susan B. Swan, the revered, long-time Curator of Textiles at Winterthur Museum. It was published in Sue's book, Plain & Fancy: American Women and Their  Needlework, 1650-1850 (Rutledge Books, 1977), as figure 35. The sampler has remained in the collection of one of her sons and is now available for sale.  
Mary Ann Clark's sampler is exceptionally fine. The Quaker style lettering includes many precisely worked alphabets, an Extract verse and the inscription, all within a graceful leafy vine enclosure topped with a bellflower motif. Many very refined and tightly-worked Quaker motifs arranged in a balanced format provide appealing embellishment. 
The names of her parents are stitched on her sampler - Jacob and Ann. Jacob Clark (1765-1816) and Ann Claypoole (1764-1832) were married in 1815 in Philadelphia, where both of the families had ties. Ann Claypoole was related to John Claypoole (1752-1810), third husband of Betsy Ross. Her great-grandfather, Joseph Claypoole, was the first warden of Christ Church in Philadelphia; his father James, came to Philadelphia from London in 1683 and was active in the early government of the city, according to American Ancestry: Giving the Name and Descent, in the Male Line of Americans Whose Ancestors Settled in the United States Previous to The Declaration Of Independence, A.D. 1776, Vol. X, published in 1895.
Jacob and Ann lived in Mount Holly, Burlington County, New Jersey, where they raised their seven children. Mary Ann was born on December 6, 1800 and she remained single. She died in 1842 and is buried in Saint Andrew's Graveyard in Mount Holly, along with much of the Clark family. 
The sampler was worked in silk on linen and is in excellent condition. It has been conservation mounted and is in a molded and black painted frame.
Here are others from Susan Swan's collection:  Anna Reed, Sarah G. Hoopes, Folwell Silk Embroidery