Catharine Bickel,
Reading, Berks County, Pennsylvania, 1827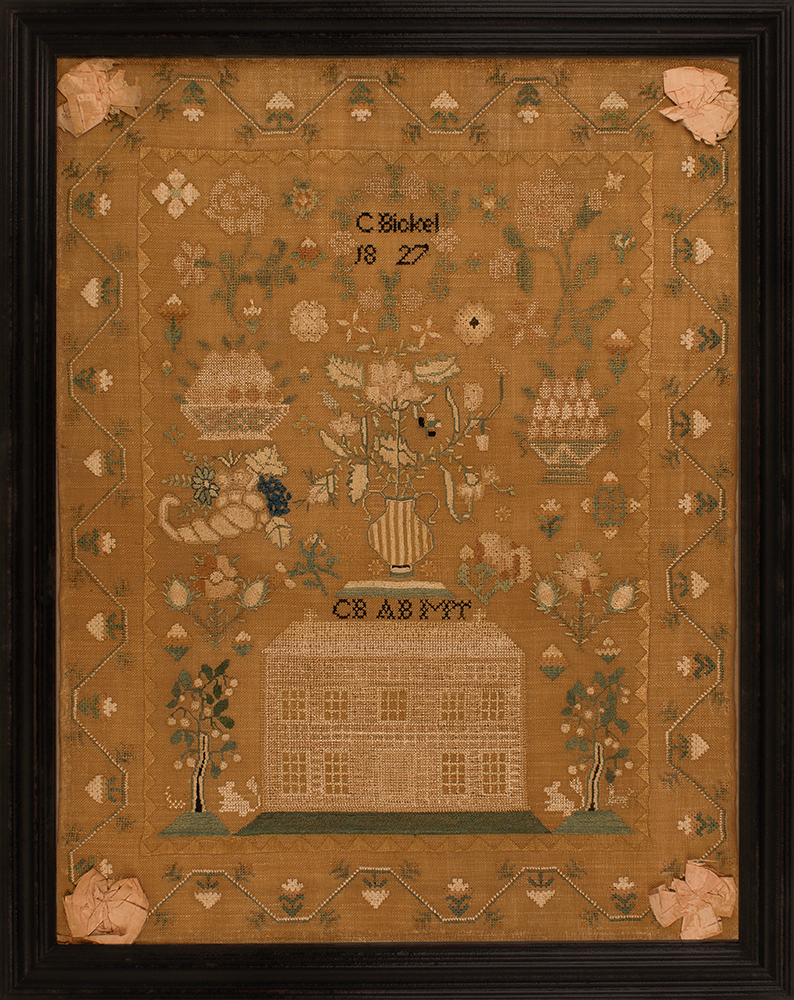 sampler size: 23" x 17½" framed size: 25½" x 20¼" •
price:
$8500
There is a significant and very appealing group of antique samplers worked between 1827 and 1831 by Pennsylvania German girls living in Reading, Pennsylvania. These are markedly sophisticated samplers, all highly developed with a great number of shared pictorial motifs; they demonstrate very advanced skill in the needle arts. The initials, M.T., most certainly those of the instructress, appear on seven of these samplers and a few others are clearly part of the same group. Historical Needlework of Pennsylvania by Margaret B. Schiffer (Charles Scribner's Sons, New York, 1968) illustrates the sampler made by Harriet Weiser in 1830, first bringing these interesting and excellent samplers to the attention of scholars in the field. 
We're delighted to be able to offer a recent addition to the group, an outstanding sampler signed by C. Bickel and dated 1827. Included are many of the important signature motifs of this group – the substantial five-bay house, large double-handled vase of flowers, fruit trees, horn of plenty filled with flowers and grapes, baskets of fruit, and assorted queen's stitched elements, all enclosed within a sawtooth framework and surrounded by a praiseworthy border of queen's-stitched strawberries and flowers. The original silk rosettes remain in the corners. 
The samplermaker included her parents' initials, C.B. and A.B., allowing for her identification. She was Catharine Bickel, born September 16, 1816, to a blacksmith, Anthony and Catharine (Fasig) Bickel. She married Frederick Haberacker (1812-1849) in 1835 at Trinity Lutheran Church in Reading and they had at least three children. Catharine Haberacker appears in the 1898 Reading City Directory, living at 130 S. 4th Street in Reading. She died in 1904 and is buried in Charles Evans Cemetery along with family members. Notice of her death was published in the Reading Eagle. 
The samper was worked in silk on linen, with original silk corner rosettes. It is in excellent condition with a tiny area of loss to the linen. It has been conservation mounted into a molded, black painted frame.