"The Wheat Sheaf Inn Posting House and Family Inn",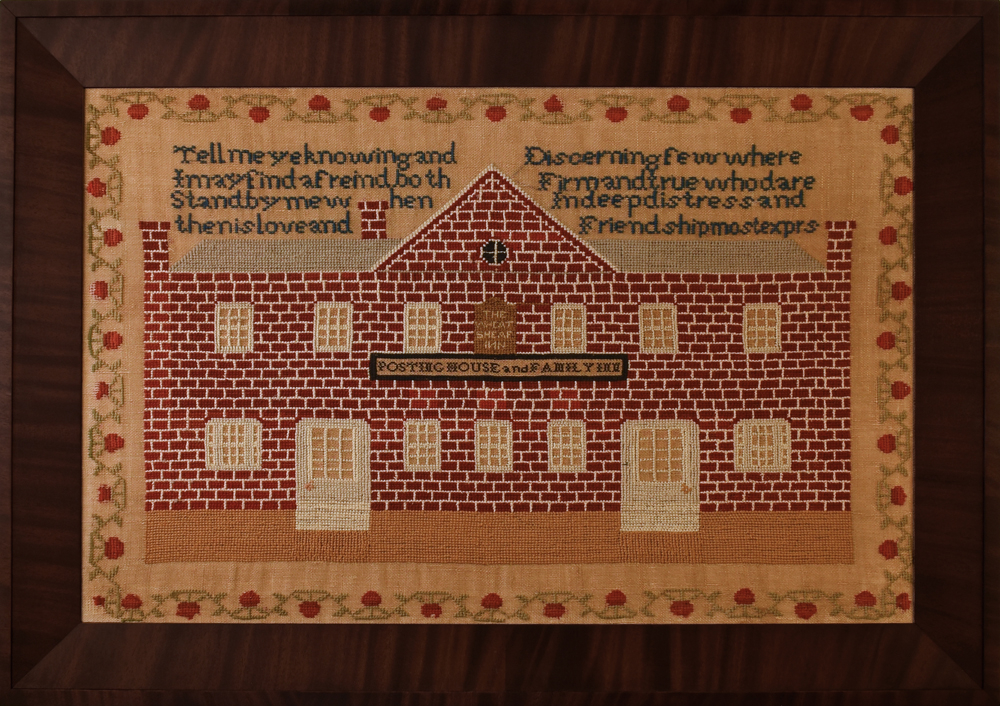 sampler size: 17½" x 27½" framed size: 23" x 33" •
price: $4400
We are particularly fond of antique samplers that depict large buildings that practically fill the entire work and have known of both English and American examples, generally made in the mid-19th century. This is one of the most appealing of its genre, portraying a large, graphic brick building with detailed signage, windows and doors. The signs state that this was The Wheat Sheaf Inn, a Posting House and Family Inn. A posting house was an inn, generally rural, where horses were also kept and could be rented or changed out by a postmaster. Horses and drivers for private coaches were also made available for hire.
A classic sampler verse that reads, "Tell me ye knowing and Discerning few where / I may find a friend both Firm and true / who dare stand by me when in deep distress / and then is love and Friendship most exprs [expressed]" was worked in a lovely blue color above the building, almost as if referencing the sky. The border is a traditional sampler pattern of strawberries and leaves, these particular strawberries provide the perfect visual punctuation. The maker didn't sign her work, lending it the feel of a needlework portrait of this particular inn and we could surmise that the maker was a daughter of the owners of this family business.
Worked in silk and wool on linen this is in excellent condition and has been conservation mounted into a mahogany frame.