Whitework Needle Lace Sampler, Bavaria, Germany, circa 1780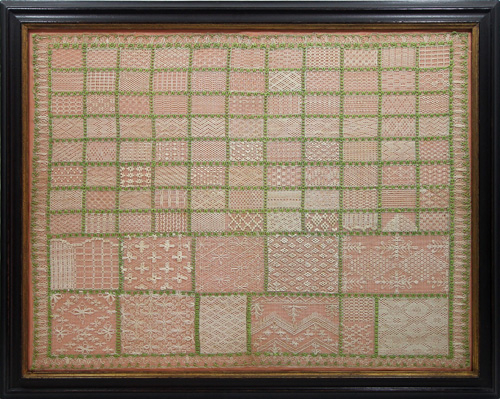 sold
This stunning piece is a breathtakingly delicate accomplishment showcasing 99 beautifully stitched rectangles, intricate patterns that were painstakingly worked in silk onto finely spun, open weave linen. These blocks were arranged into a pleasing and well-proportioned composition. The grid that separates the patterns is made up of apple-green stitching worked in a pattern of tightly linked circles; the border is finished with the same green silk in a looping design, the side borders are slightly different than the top and bottom.
The Bavarian National Museum in Munich, which collects and exhibits two millennia of European art and culture, has within its renowned collections three examples that are strikingly similar to this one. Published in Stickmustertucher, Katalogue des Bayerischen Nationalmuseums, the museum's 1980 publication of their sampler collection, by Nina Gockerell, as figures 39, 40 and 41, these indicate a genre of needlework, or needlelace, as is stated in the captions, that was made in Bavaria in the late 18th century. In particular, figure 40 in the museum's collection is almost identical to our example.
Another very similar example of whitework, in the collection of Museum of Fine Arts Boston and dated 1762, is published on pages 56 and 57 in Samplers from A to Z by Pamela A. Parmal (MFA Publications, 2000). Like those in the Bavarian National Museum and our example, techniques include cutwork and pulled work accomplished in white, with a color used for the grid.
Fortunately, our piece came with period handwritten information that adds context and helps to identify the maker or, certainly, the owner. It was lightly stitched to its original paper, which was painted a fine salmon color. A delicate inscription on the back of the paper reads, "Gehorig Carolina Bittlmair Advocatens Wittwe in Kempten," which, working with early scripted styles, translates to, "Belonging to Carolina Bittlmair, widow of the lawyer, in Kempten." Carolina and a sister or sister-in-law, Walburga Bittlmair, are reported in a death notice in an 1840 Bavarian newspaper as having resided in Dillingen and Monheim, other towns in Bavaria.
This was worked in silk on linen and is in excellent condition. It has been conservation mounted onto a salmon color fabric, close to the shade of the original paper. This paper, of course, accompanies it as well. It is in a molded and black painted frame.
Size of the needlelace: 16" x 20½"      Framed size: 19" x 23½"