Catharine Shimer, Mary Ralston School Easton, Pennsylvania, 1829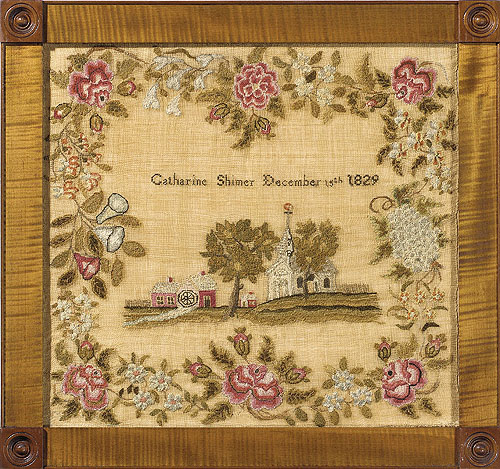 sold
The extraordinary samplers made by schoolgirls under the instruction of Mary Ralston of Easton , Pennsylvania depict strong buildings in landscape settings surrounded by rich, wide borders formed of a fine assortment of lush flowers and shaded leaves. Ralston school samplers are highly recognizable; they share a spacious quality which renders them more like folk paintings than schoolgirl samplers. Another characteristic is the extremely fine and tight workmanship executed in a deeply colored palette. One of the earliest known Ralston school examples was made in 1829 by Catharine Shimer and it is a privilege to offer this highly significant and very appealing sampler. In vol II of Girlhood Embroidery , Betty Ring writes of this group in a section entitled "Samplers of the Lehigh Valley , Easton Samplers and Mary Ralston's School." Catharine Shimer's sampler is illustrated as figure 506, on page 452; the two other samplers that are illustrated are in collections of historical societies.
Born in 1815, Catharine was the daughter of a farmer and miller from Easton , Abraham Shimer, and his wife Elizabeth (Leidy) Shimer. It is worth noting that Catharine included a depiction of a mill house on her sampler and this is the only sampler from this group to do so. A Pennsylvania German family, the Shimers originated with Jacob Shimer / Scheimer (1734 – 1764) who emigrated to America . Catharine married a farmer, John S. Oberly, and they remained in Northampton County , Pennsylvania where they had six children.
Much is known about Mrs. Mary Ralston (1772-1850) as well, due in large part to Betty Ring's research. Born in Philadelphia , Mary (Endress) Ralston began teaching in Easton , north of Philadelphia , after she became a widow. By 1812, Mrs. Ralston established a private girls' school in her home and early in 1829, the year that Catharine Shimer made this sampler, bought a fine brick house on Spring Garden Street from which she conducted her school for several years.
The sampler is worked in wool, silk and cotton on linen and is in excellent condition. It has been conservation mounted and is in a cherry and maple cornerblock frame.