Kiziah Sharp, Medford, Burlington County, New Jersey, 1825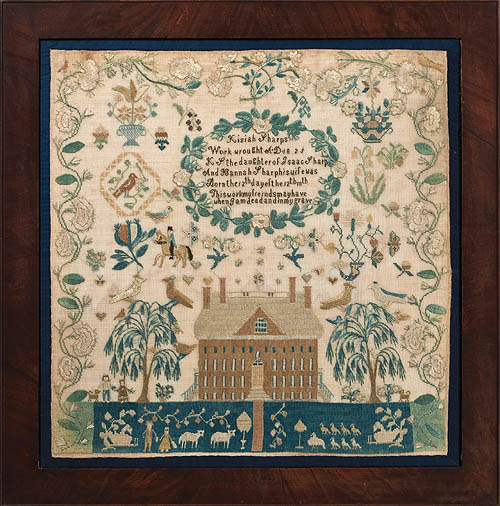 sold
It is a privilege to offer this exceptional and highly important Burlington County, New Jersey sampler made by Kiziah Sharp and published in Betty Ring's Girlhood Embroidery, volume II, figure 532. As one of the finest known samplers of its type, it illustrates the section entitled, Quaker Samplers of Burlington County. Only a handful of samplers are known that depict the very detailed four-chimney Westtown School building, an iconic and highly recognizable structure for American Quakers. Throughout her sampler Kiziah demonstrates her proficiency and includes many whimsical figures, with one on horseback, assorted sheep and dogs, many large birds as well as flocks of small ones and a pair of classic Quaker swans. Her rich blue-green lawn with its pair of fine willow trees anchors the composition well, with the large, graceful floral wreath enclosing the inscription providing further depth of color and texture. Additionally, pots, baskets and a cornucopia of flowers, Quaker sprigs of berries and flowers, floating queen's-stitched strawberries, butterflies and little hearts provide excellent embellishment. The border is the classic Burlington County scrolling double vine composition with open-face white flower blossoms.
Kiziah's extraordinary sampler offers excellent visual appeal and has long been considered one of the finest of all Burlington County Quaker samplers. In the early 20th century this sampler was in the collection of Emmeline Reed Bedell (1853-1920) of Philadelphia and it retains her original handwritten label on the backboard. Mrs. Bedell and her collection are discussed by Betty Ring on page 544 of Girlhood Embroidery, and Kiziah's sampler was catalogued in the seminal 1921 publication, American Samplers, by Bolton and Coe, on page 221 of the first edition.
As she stitched onto her sampler, Kiziah was the daughter of Isaac Sharp (1780-1860) and Hannah (Garwood) Sharp (1786-1850). She was born in 1810 and lived her life in the Medford area. Her father was a son of William and Elizabeth (Green) Sharp and her mother was a daughter of Japheth and Hannah (Haines) Garwood. Among other published family genealogies, information about the family is found in Richard Haines and His Descendants A Quaker Family of Burlington County, New Jersey since 1682. In 1834 Kiziah married Allen Prickitt, also from the area. She must have died prior to 1850 when the Prickitt family was recorded in the census taken that year. Allen Prickitt was then living nearby Kiziah's parents with his second wife and a son, Henry, born in 1844, likely Kiziah's son.
Quite wonderfully, the sampler retains its original deep blue silk ribbon and the sampler and ribbon are in excellent condition. It has been conservation mounted into its excellent original mahogany frame with original backboard.
Sampler size (including the ribbon): 23½" x 23"    Frame size: 27¼" x 27" 
This sampler is from our archives and has been sold.