Jane McCulloch, Philadelphia, Pennsylvania, 1772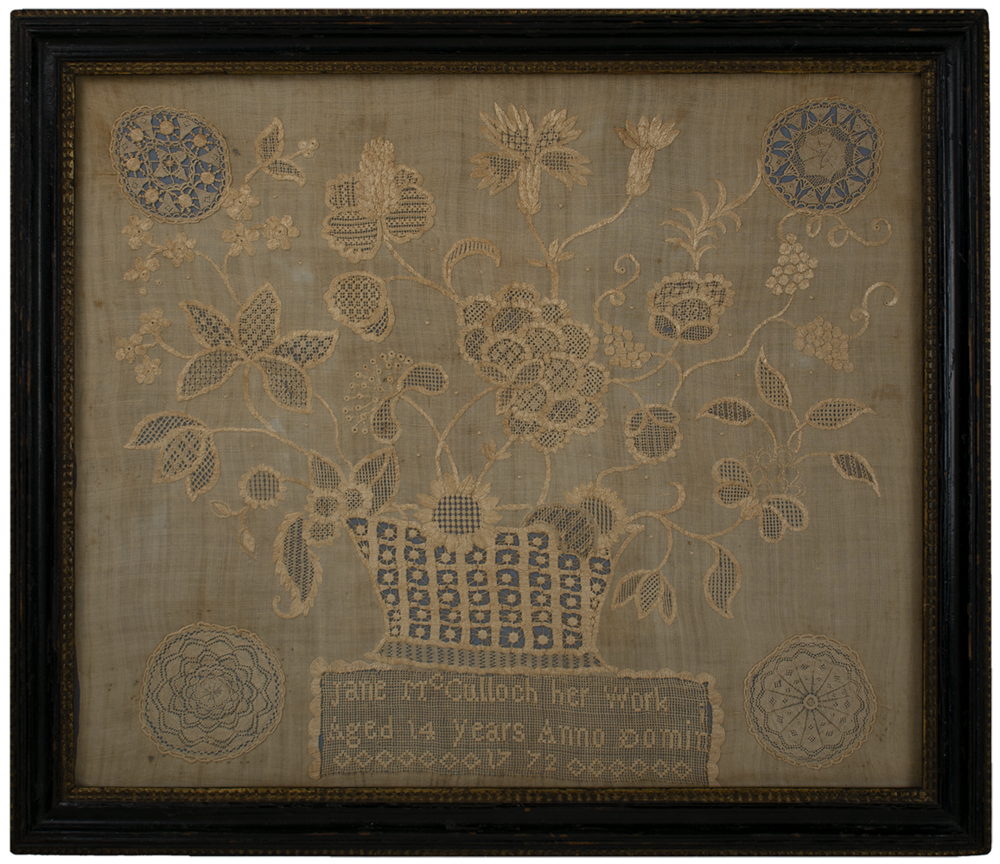 sold
Writing in Girlhood Embroidery: American Samplers & Pictorial Needlework 1650-1850, vol. II, Philadelphia's Opulent Embroideries, in a section entitled "White-Work Samplers," Betty Ring states that the "most unique samplers produced in America are the Dresden-work samplers made in Philadelphia during the second half of the eighteenth century, since their floral patterns appear to have neither foreign nor American counterparts." Mrs. Ring goes on to elucidate the history of white-work, dating back to the early seventeenth century. The "White-Work Samplers" of Philadelphia include examples made from 1751 until 1795; the most sophisticated of these are highly successful compositions of a center basket of flowers with graceful blossoms on leafy stems, and circles of intricate patterns with a tablet of inscription below. Jane McCulloch, a fourteen-year-old from a prominent family of Philadelphia, worked an extraordinary white-work sampler of this precise type in 1772, and we are privileged to present it now. It closely resembles the sampler made in 1771 by Jane Humphreys and owned by the Philadelphia Museum of Art, published in The Fine Art of Textiles: The Collections of the Philadelphia Museum of Art by Dilys E. Blum (Philadelphia, 1997) as figure 153.
Our samplermaker, Jane, was the daughter of Hugh and Christina McCulloch of Philadelphia, born circa 1758. Mr. McCulloch was a successful merchant who was active and influential in the life of colonial Philadelphia, and an elder in the now-historic Second Presbyterian Church. He was part of a group of merchants who signed a petition in 1765, protesting the Stamp Act and banding together in their decision to refuse to ship their goods to Great Britain until the act was repealed. Portraits of Hugh and Christiana McCulloch and their son, James McCulloch, were painted circa 1773 by Matthew Pratt and are in the collections of Winterthur Museum, Museum of Art of the Rhode Island School of Design and Princeton University Art Museum, respectively.
In November of 1787, Jane married Dr. Solomon Birckhead, who was born in Maryland and who graduated from the University of Pennsylvania with a degree from the medical school in 1783.The McCulloch family had ties to Baltimore, where Jane's brother Hugh, Jr., had settled. Dr. Birckhead was a prominent doctor and member of Baltimore's City Council. Jane and Solomon resided in Baltimore and in 1789 bought a large tract of land with a manor house, called Mount Royal, as a summer estate (this neighborhood is now known as Reservoir Hill). Jane and Solomon had seven children, including their daughter Christina who married Dr. Thomas Bond; the Mount Royal estate was bequeathed to them and then to their son, Hugh Bond. Mr. Bond was very philanthropic and supported emancipation and education of blacks; he donated half of the family land to the city of Baltimore. Jane died in 1829 and Solomon in 1836; they are buried at Old Saint Paul's Cemetery in Baltimore.
The sampler was worked in silk on very fine linen and it is in excellent condition. It has been conserved and is in a period frame.
Sampler size: 12" x 14"   Frame size: 14¼" x 16¼"
This sampler is from our archives and has been sold.