Important Chester County Sampler Pennsylvania, 1795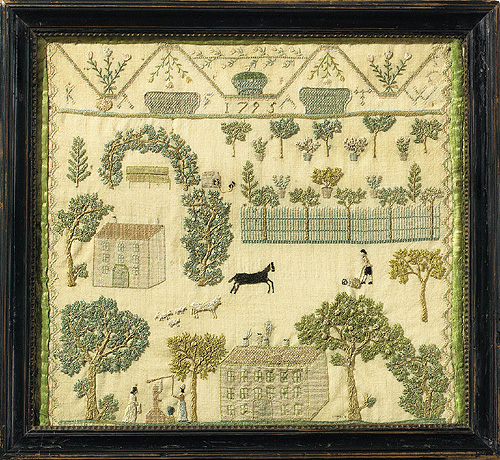 sold
In a landmark exhibition in 1974 at the Whitney Museum of Art, entitled "The Flowering of American Folk Art," five samplers were included; one of these is this extraordinary 1795 sampler which we offer now. Worked in Chester County, Pennsylvania, the sampler was then owned by legendary sampler collector, Theodore H. Kapnek, and was acknowledged to have been one of the stand-outs within his large collection.
The sampler is visually striking with an unusual vitality and intriguing folk images. It includes large houses, two women drawing water from a well, a man engaged in rolling the lawn, a sheep and three lambs and a dog roped to his dog house. The idiosyncratic composition centers on a galloping black horse and the many leafy trees and potted plants, worked in varying shades of green, teal blue and olive, encourage one's eye to move around the sampler. The tall blue fence, intermingled with its plantings, proceeds rhythmically across the sampler and, along with the unusual perspective of the houses and the garden seat under a bower, provides great visual interest.
The borders are simple: narrow zigzags at the sides, a deep arcaded zigzag along the top and a lawn anchoring the scene at the bottom.  A three-sided green silk ribbon, original to the sampler, contributes to the fresh palette. The initials FA flank the date and may be assumed to be those of the maker.  The others two sets, KA and TW are likely to be those of her parents. Worked in silk on wool, the sampler is in excellent condition with some minor areas of loss to the wool. 
Provenance:  Collection of Theodore H. Kapnek, Collection of Ralph Esmerian
                 
Exhibited and Published: Flowering of American Folk Art, by Jean Lipman and Alice Winchester, Whitney Museum of Art, New York, 1974, plate 133     
A Gallery of American Samplers, Glee Krueger, The Museum of American Folk Art, New York, 1978, plate 34
Young America, Museum of American Folk Art, New York, 1986