Double Memorial sampler Smith and Humphreys family,Miss Field's School, Boston, Mass., circa 1815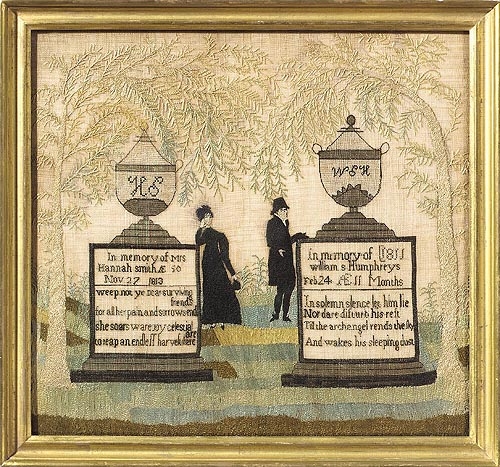 sold
While silk embroidered memorials are plentiful, memorial samplers were rarely made and this is a splendid and highly personal example with large, expressive figures set between enormous monuments. Those memorialized are Mrs. Hannah (Phipps) Smith, age 50, and her grandson William Smith Humphreys, age 11 months, both of Boston . The needleworker would have been one of William's sisters or another family member and the couple dressed in mourning garb were likely Catherine Smith Humphreys and her husband George Humphreys, who had been married at the First Church in Boston in 1804.
A memorial by Adeline A. Greenleaf, circa 1808, from the Edgar and Bernice Garbisch Collection, is inscribed that it was worked at Miss Field's School, Boston (see Sotheby Parke Bernet Sale, Nov, 1974, lot 167). It is clear that the Greenleaf and Smith/Humphrey pieces were worked at the same school as they share many salient and defining characteristics.
The scene is beautiful composed with a lawn formed of many layers and with two large and delicate weeping willow trees, traditional symbols of loss and mourning. The large tombs each feature initials worked onto the solidly stitched urns and poems specific to the deceased. The posture and details of the two standing figures are unusual and captivating, from their feet to their facial expressions and hats. Mourning art was taken to great heights in the early years of the 19 th century and this is one of the most appealing examples that we have known.
Worked in silk on linen, the sampler is in excellent condition with very slight wear. It has been conservation mounted and is in a fine 19 th century gold leaf frame.