Ann Simmons, Ann Marsh School, Philadelphia, Pennsylvania, 1792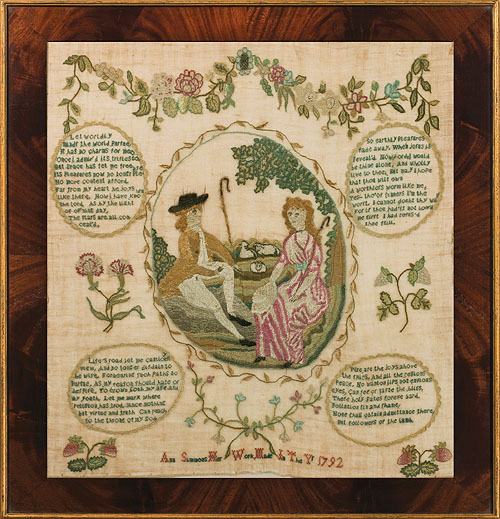 sold
Ann Simmons's extraordinary sampler is one of the most significant discoveries to come to light in the last several years. Made at the school of Ann Marsh in Philadelphia, it closely relates to the important sampler made by Sarah Cooper, also in 1792, formerly in the collection of Betty Ring and published as fig. 361 in vol. II of Girlhood Embroidery: American Samplers & Pictorial Needlework 1650 – 1850 (Knopf 1993), in a section entitled Philadelphia's Opulent Embroidery. These two samplers are remarkably similar in composition and technique; clearly Sarah Cooper and Ann Simmons worked their samplers side by side. Needlework historians consider Ann Marsh, along with her mother, Elizabeth Marsh, to be the most important of all American instructresses. They taught the daughters of the most prominent families from Philadelphia and its immediate areas, and both mother and daughter were obviously highly talented needlewomen. Mrs. Ring described the type of sampler made by Ann Simmons and Sarah Cooper as, "most spectacular … with delicate pictorial embroidery." Characteristics shared by both Sarah's and Ann's samplers include the large center oval with a shepherd, shepherdess and sheep, the exemplary garland of flowers formed of minute tent stitches, the smaller ovals with letter-prefect verse and the inscription along the bottom. Both Sarah and Ann exhibited strong aptitude in the needle arts.
Ann Simmons was the daughter of Quakers, Edward and Elizabeth (Gillingham) Simmons, who were married in 1773. They were members of the Philadelphia Monthly Meeting, Northern District, and Ann's birth in 1778 was recorded there, as well. Copies of the Meeting's records are among the papers in the file of documentation that accompanies this sampler. Ann's maternal ancestors descended from Yeamans Gillingham, a Friend who came from England circa 1690 and settled on land in Frankford, just north of Philadelphia, which was deeded from William Penn's commissioner. He was one of the overseers of Abington Meeting and much information about the family is published in Gillingham Family: Descendants of Yeamans Gillingham, compiled by Harrold Edgar Gillingham (Philadelphia, 1901). Yeamans' granddaughter, Elizabeth Gillingham, was Ann Simmons's mother. Ann remained single and transferred her membership to the Green Street Monthly Meeting in 1838. Notice of her death at age 86 in 1864 was published in the Friends Intelligencer, vol. 21.
The sampler was worked in silk and coiled metal on linen and is in excellent condition. It has been conservation mounted and is in mahogany and gold leaf frame.
Sampler size: 20¼" x 19"      Frame size: 23" x 21¾"      
This sampler is from our archives and has been sold.