Discovery | By Eleanor H. Gustafson
Endnotes: African American schoolgirl embroidery
"Amy is a treasure," Linda Eaton, curator of textiles at the Winterthur Museum in Delaware, said to me referring to Amy Finkel, the Philadelphia needlework dealer, who recently brought a rare Berlin work picture stitched by a black American schoolgirl to her attention. Knowing that Eaton has long felt that Winterthur's collection does not adequately represent the cultural diversity that existed in this country in the seventeenth, eighteenth, and nineteenth centuries, she was the first person Finkel approached with the needlework, stitched by Olevia Rebecca Parker in Philadelphia. "I was thrilled," says Eaton, "and the entire acquisitions committee was behind it 100 per cent." Doubling her delight, at the same time Bill and Joyce Subjack of Neverbird Antiques in Surry, Virginia, needlework specialists and collectors themselves, offered her a Berlin work picture stitched by Rachel Ann Lee at the Oblate Sisters of Providence School for Colored Girls in Baltimore in 1846, and Winterthur acquired it as well.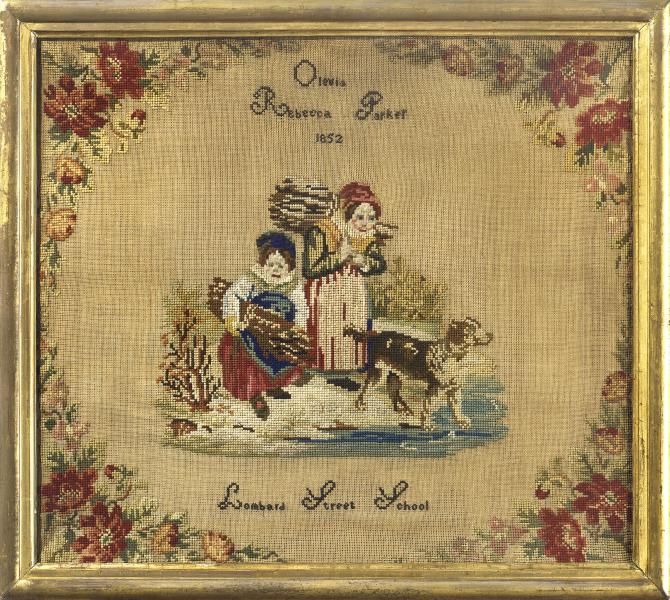 Image: Berlin work picture by Olevia Rebecca Parker (later Mrs. Joseph Brister; c. 1838-c. 1882), Lombard Street School, Philadelphia, 1852. Winterthur Museum, Delaware
 
It is hard to overstate the significance of these needlework pictures. The huge body of scholarship about American schoolgirl needlework documents the many teachers and schools that offered instruction in this "accomplishment" to white girls, but only in recent years have scholars unearthed evidence of a small number of schools where decorative needlework was also taught to black girls. The best known were in Baltimore, most particularly the schools run by the Oblates, well documented by Gloria Seaman Allen in the pages of this magazine in April 2004 (where Rachel Lee's work was illustrated and discussed) and in her book, A Maryland Sampling: Girlhood Embroidery, 1738-1860 (2007). Besides the surviving examples from the Baltimore schools, between them Eaton and Finkel could think of only a handful: one sampler in a private collection worked by a black girl at a school in Connecticut, a very plain marking sampler done by a black girl in Ohio, and one worked at the Convent of Mount Carmel established in New Orleans in 1838 to educate young girls of color. Allen reminded me of one other that she had footnoted in her 2004 article­-a marking sampler in the Subjacks' collection, worked at a school in Williamsburgh (now part of Brooklyn), New York, probably in the 1850s. And Kathleen Staples and Kimberly Ivey have found that southern black girls received needlework instruction, though no documented examples have been identified.
With the discovery of Olevia Parker's work, the Lombard Street School in Philadelphia can be added to the list of schools where decorative needlework was taught to blacks. Finkel's research revealed that the school originally educated white children, but about 1828 they were transferred to a new building and African Americans were enrolled at the old building on Sixth and Lombard—actually just five short blocks from Finkel's shop.
Olevia Parker was about fourteen when she stitched the picture, the sentimental subject of which is typical of the Berlin work patterns popular in the middle of the nineteenth century. Both Eaton and Allen remarked on the fact that here, as in surviving examples from the Oblate schools, the teachers clearly did not adapt the pattern to reflect their students' skin color—another factor complicating the identification of needlework by black girls.
By 1860 Olevia had married Joseph Brister, an African American dentist in Philadelphia. Their eldest son, James (1858-1916), was the first black to earn a degree from the University of Pennsylvania, from which he graduated in 1881, a dentist like his father. (Today the university's James Brister Society rewards students of color for their leadership and achievements.)
How valuable is an African American provenance to such a work? Neither Eaton nor Finkel would reveal the price paid, but Berlin work pictures signed and dated by white girls can be found for under a thousand dollars. By contrast, one stitched by the African American Samaria Gaines at the Oblates' school in 1858 and now in the Baltimore Museum of Art, was listed in Finkel's Spring 2004 catalogue for twenty-four thousand dollars.
Below are the remarks prepared by Amy Finkel that add further to the information regarding the Lombard Street School and the samplermaker. Some of this information may duplicate the article above.
Olevia Rebecca Parker, Lombard Street School Philadelphia, 1852 The Lombard Street School, a public school located on Sixth Street near Lombard Street, educated Philadelphia African American students for many years, beginning approximately in 1828. Prior to that date, the school educated white children, who were then transferred to a new building on Locust Street. The Pennsylvania Abolition Society, founded in 1775, amended its mission in 1787 to work towards "improving the Condition of the African Race" and the Society was highly instrumental in the continuation of the Lombard Street School. Civic leaders, both black and white, supported the Lombard Street School and the continued public education of African American students.
There are no other samplers known to have been made at this school, nor are there any other documented African American samplers made in Philadelphia. This sampler obviously reflects the popular style of mainstream needlework of the early 1850s and the teachers had not adapted or altered the subject: A Berlin pattern of two girls collecting firewood with their dog is centered within four floral corner elements. Most of the needlework is cross-stitch but the faces and heads of the two girls are worked in a tighter tent-stitch.
Much information can be found regarding the samplermaker, Olivia (Olevia) Rebecca Parker (circa 1838 - circa 1882), an African American who lived her life in Philadelphia. She was the daughter of Adam and Olivia Parker; both of her parents were born circa 1801 in Maryland and lived much of their lives in Philadelphia. The 1850 census shows the family, consisting of Adam, Olivia and five children (Thomas, Elizabeth, Rebecca (aka Olivia Rebecca), George and Theophilus) living in the Southwark Ward. Both Adam and his eldest child Thomas indicated that they were waiters. Olivia Rebecca Parker would have been age 14 in 1852 when she attended the Lombard Street School and worked this sampler. By 1860, according to that census, Olivia was married to an African American dentist, Joseph Brister (born in Pennsylvania, circa 1835) they became the parents of two children, Olivia, age 3 and James, age 1. The family lived with Olivia Rebecca Parker Brister's mother and siblings, and their occupations were listed as seamstress, barber and apprentice shoemaker. Both the 1870 and 1880 census show the family as it continues to grow; by 1880 their eldest daughter, Olivia Brister, age 23, was a teacher.
Most interestingly, their eldest son, James (1858-1916) attended the University of Pennsylvania where, in 1881, he received a degree in the school of dentistry and was the first African American to earn a Penn degree. The James Brister Society of the University of Pennsylvania, an active and highly respected group, was named in his honor and rewards students of color for their leadership and achievements. The Penn archives contain much information about the Brister family, and document that Olivia's husband was a member of the Banneker Institute and civic associations that focused on the social rights and general conditions of Philadelphia's substantial African American community. The Bristers lived in the area of Lombard and Pine Streets between Sixth and Tenth Streets, a predominantly African American neighborhood. A book by the noted 19th century African American sociologist, W. E. B. DuBois, entitled The Philadelphia Negro: A Social Study, originally published in 1899 by the University of Pennsylvania Press (reprinted in 1996 by the same), is a classic work which documents this community and the Lombard Street School.
Olivia Rebecca Parker Brister died, according to the University of Pennsylvania Archives, in the early 1880s. Her son James was practicing dentistry along with his father at 844 Lombard Street in 1890; however shortly after that James removed to Chicago and spent the rest of his life in Illinois, a well-respected dentist and community leader.
The sampler seems to have remained in the Philadelphia area but not within the family. It is in its original gold leaf frame.