Sarah Walter,
Chester County, Pennsylvania, 1798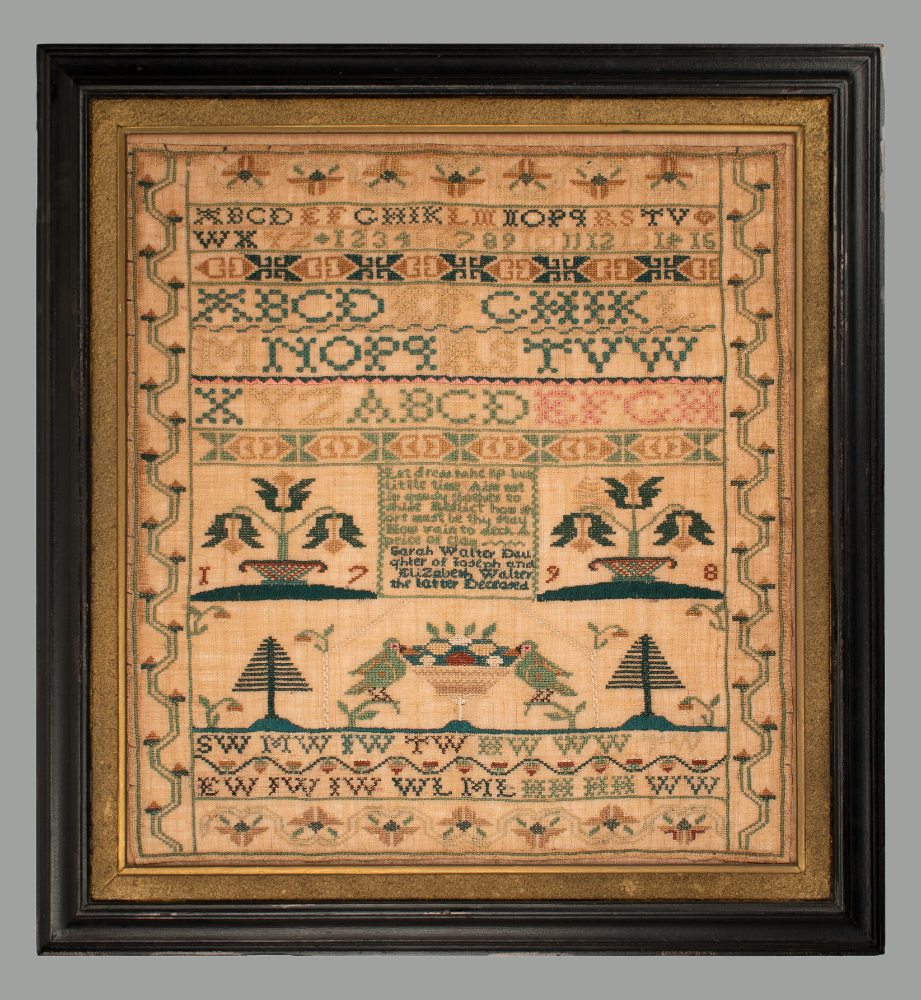 sampler size: 16" x 15" •
framed size: 20½" x 19¼ •
sold
This outstanding sampler was made by Sarah Walter, a Quaker born on May 6, 1772, the oldest of eight children of Joseph and Elizabeth (Levis) Walter, members of the Kennett Monthly Meeting of Chester County, Pennsylvania. She was 26 years old when she made this sampler, and her advanced skill is evident throughout. The balanced format, the stylized baskets of flowers, pair of birds flanking a basket of fruit, rows of family initials and bands of patterns are all beautifully worked and contribute to the praiseworthy aesthetic appeal. 
The verse stitched in the center block, reads, "Let dress take up but / little time Aim not / in gaudy clothes to / shine Reflect how sh / ort must be thy stay / How vain to deck A / piece of clay," and is appropriate for the Quaker origins of the sampler. This same verse has been documented on a sampler made earlier in the 18th century in the book, American Samplers by Bolton and Coe (Massachusetts Society of the Colonial Dames, 1921). 
Below that, Sarah signed her sampler, "Sarah Walter Dau / ghter of Joseph and Elizabeth Walter the latter deceased." The family initials are precisely matched up to her siblings and grandparents. WW may be those of her instructress. Further family research accompanies the sampler.
Sarah remained single and in 1804 a complaint was brought against her at her Quaker meeting for "unchastity which is manifest by her bearing an illegitimate child." She produced a paper of acknowledgement for her transgression which was read and received at the Goshen Meeting; she was then allowed to remain a member. She died in 1863, age 91, in West Chester. 
The sampler was worked in silk on linen and is in excellent condition. It has been conservation mounted and is in a fine reproduction frame and sanded liner.