Sarah Oscroft,
Sutton-in-Ashfield, Nottinghamshire, England, 1783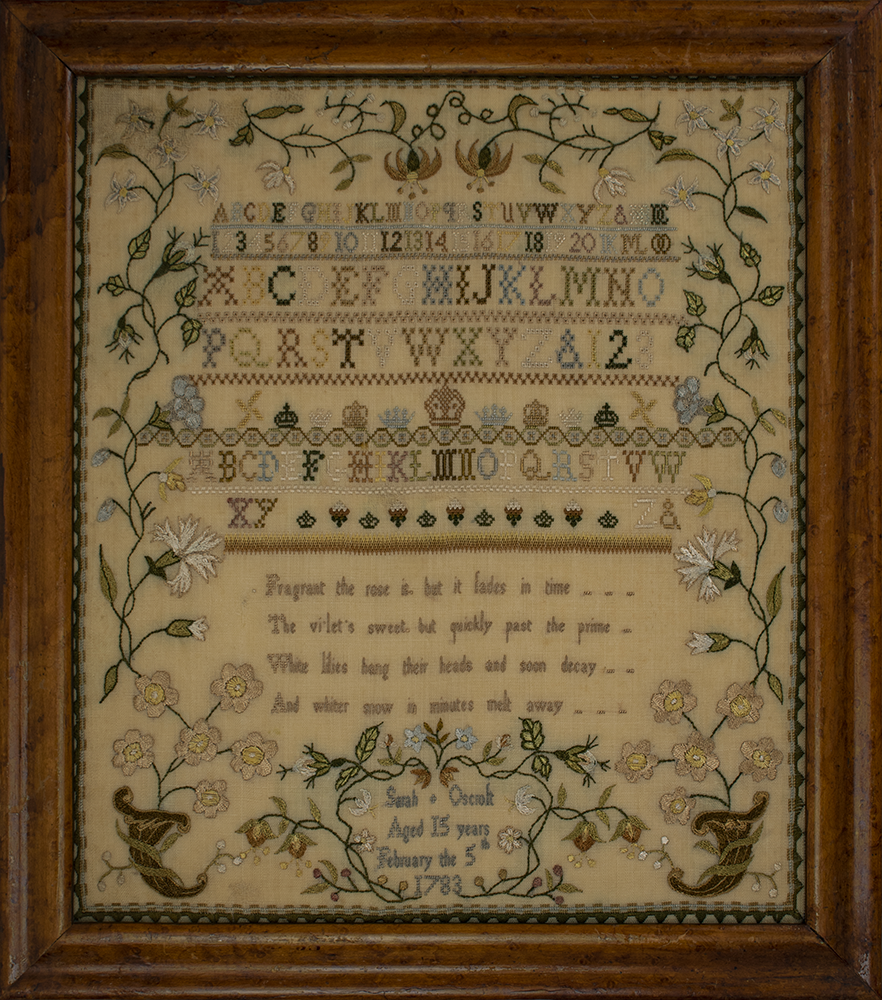 sampler size: 14" x 12¼" •
framed size: 17" x 14¾" •
sold
This sampler exhibits some of the most beautiful embroidery - specifically in the delicate, intertwining leafy vines with flowers and buds that emanate from two cornucopias. The vines also form a wonderful enclosure along the bottom, which contains the inscription, "Sarah Oscroft aged 15 years February 5 1783". 
The verse reads, "Fragrant the rose is but it fades in time the violet sweet but quickly past its prime while lilies hang their heads and soon decay and whither snow in minutes melt away." This is one that was greatly popular throughout the 18th century, and can be found on many fine samplers. Several renditions of the alphabet and a numerical progression are also joined by a row of crowns and coronets along with a handful of queen's-stitched strawberries. A tightly worked sawtooth edging frames the composition perfectly.
Sarah was the daughter of John and Sarah Oscroft of Sutton-in-Ashfield in Nottinghamshire, 12 miles north of Nottingham. She was baptized on February 13, 1770 at St. Mary Magdalene, a church with historic origins dating back to 1170. In 1793, Sarah married William Scott at the same church. 
The sampler was worked in silk on wool and is in very good condition. It has been conservation mounted with some securing to the wool in the upper left corner area.