Quaker Medallion and Motif Sampler,
initialed RL, probably Ackworth School,  
Yorkshire, England, 1789
Provenance: Susan B. Swan Collection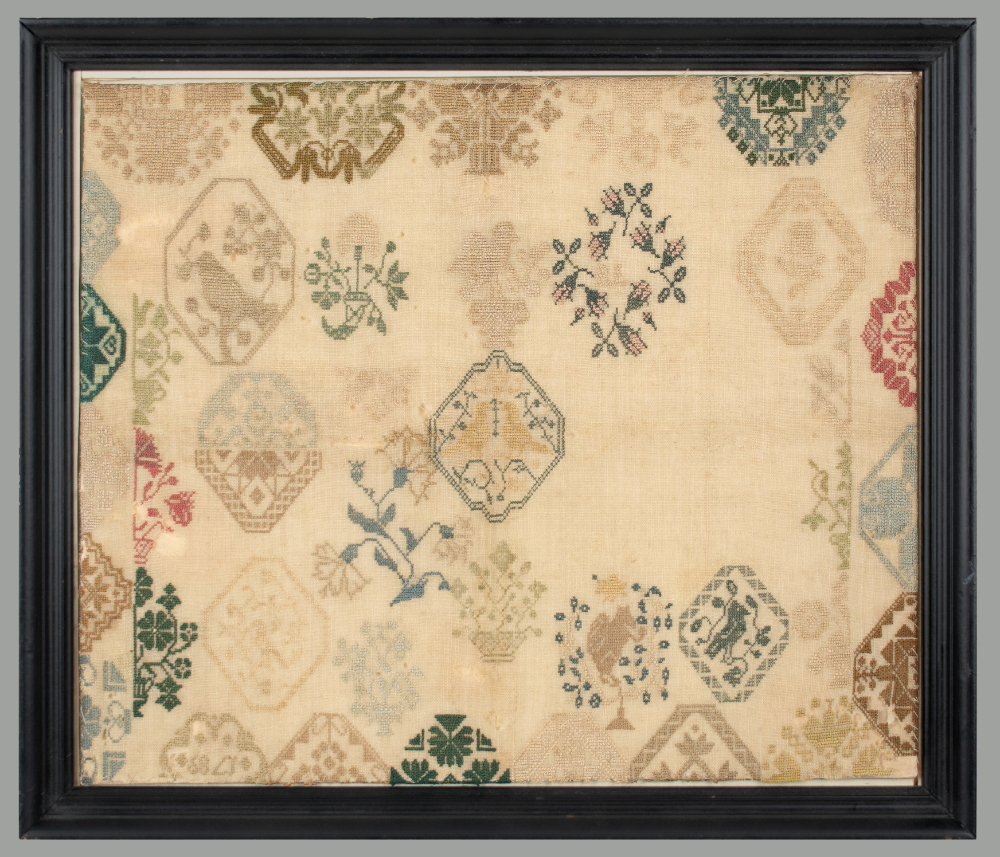 sampler size: 10½" x 12¼" •
framed size: 12¼" x 14¼" •
sold
An excellent Quaker sampler, this was in the personal collection of the late Susan B. Swan, the revered, long-time Curator of Textiles at Winterthur Museum. The sampler has remained in the collection of one of her sons and is now available for sale. It was most likely made at the Ackworth School, which was founded in 1779 in northern England, with the purpose of providing an education for Quaker children from less affluent families. It was expected that both male and female students would receive an academic education, as well as skills that would help them find work after they left the boarding school. The girls learned needlework, both plain sewing and finer skills, and many of the Ackworth school sampler patterns became hallmarks of excellent samplermaking throughout England and the United States. Carol Humphrey's book, Quaker School Girl Samplers from Ackworth (Needleprint, 2006), is an important source of information about the school and the samplers made there.
This sampler is one of the particularly sophisticated types that was made by students at the Ackworth School. These samplers featured many interesting and complex full and half medallion motifs, some highly stylized and enclosing birds or flowers. Some Ackworth girls who made these samplers also filled the areas between these elements with classic Quaker motifs, such as sprigs of flowers, cornucopias, and birds on baskets. 
The stitching of this sampler is extremely fine and delicate. It is somewhat unfinished but initialed, RL and dated, both 1788 and 1789 (within half medallions along the top and bottom edges), reflecting no doubt that it was worked on during both of those years. 
Worked in silk on wool, the needlework is in excellent condition but there is scattered loss to the wool. It was conservation mounted by Sue Swan and the edges of the sampler are complete. It is in a molded and black painted frame that was most likely made by Sue's husband.