Pair of samplers made by sisters,
Rebekah and Elizabeth Gallishan, 1779 and 1782,
Newburyport, Massachusetts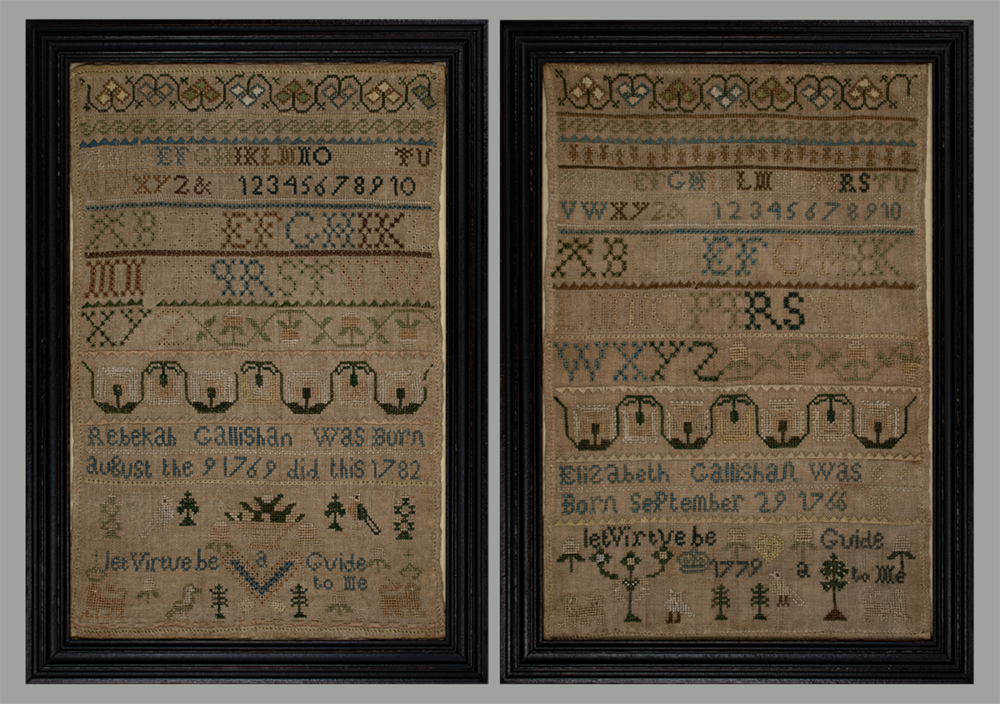 sold
Rebekah sampler size: 15¼" x 9¾"  •  Elizabeth sampler size: 15½" x 10¼"
Rebekah framed size: 17½" x 12¼"  •  Elizabeth framed size: 17½" x 12¾"
We are delighted to have these early and fine band samplers, which were made by sisters and have remained together over the centuries. Each of the girls included her birthdate on her sampler, as well as the excellent aphorism, "let Virtue be a Guide to me." Each sampler features the classic Newburyport trefoil band across the top and little pictorial elements at the bottom, again characteristics found on samplers from that town and immediate area. 
Their parents were Abraham Gallishan (1729-1823) and his wife, Abigail (Bosdick) Gallishan (1730-1773); the family name shows up with several variations. Abraham served in the French and Indian War, listed as a private from Charlestown. He and Abigail wed in 1750 in Charlestown, Massachusetts and removed to Newburyport shortly after that. They had at least five children between 1750 and 1769; Elizabeth and Rebekah were their youngest. Our research turned up an interesting fact - The History of Newburyport Massachusetts 1764-1905 (John J. Currier, 1906) in the section entitled Schools and Schoolmasters notes that, "Rebecca Gallishan, who resided on Boardman street, taught school in the house where she lived." Rebekah married Micajah Morrill, of Newburyport in 1793. They had at least three children, Elizabeth, Rebekah and Michjah, and she died at age 40 in 1802. 
Elizabeth remained single and died in 1829, at age 59. She is buried next to her parents in St. Pauls Episcopal Churchyard in Newburyport. It seems likely that her sampler was given to her niece and namesake, Elizabeth Morrill, who may also have had that made by her mother, thus began the descent of the pair of samplers within the family. 
The samplers were both worked in silk on linen and are in excellent condition. They have been conservation mounted and are in molded and black painted frames.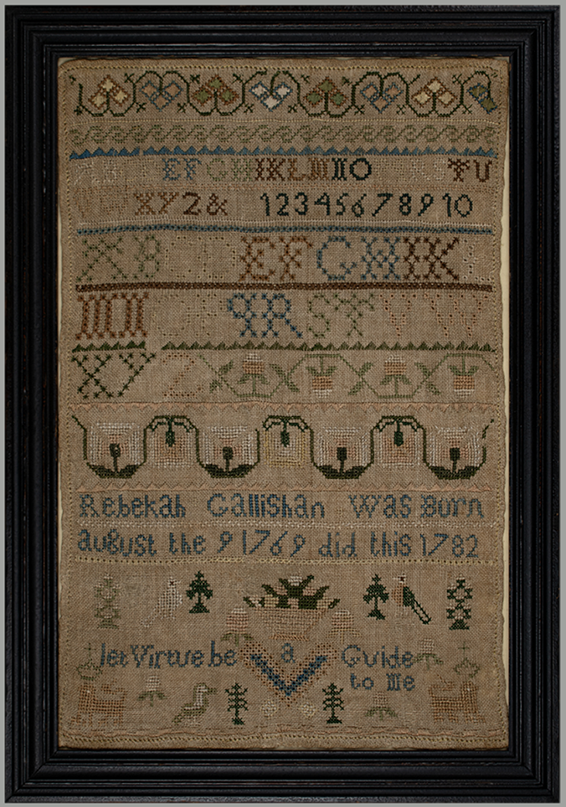 Rebekah Gallishan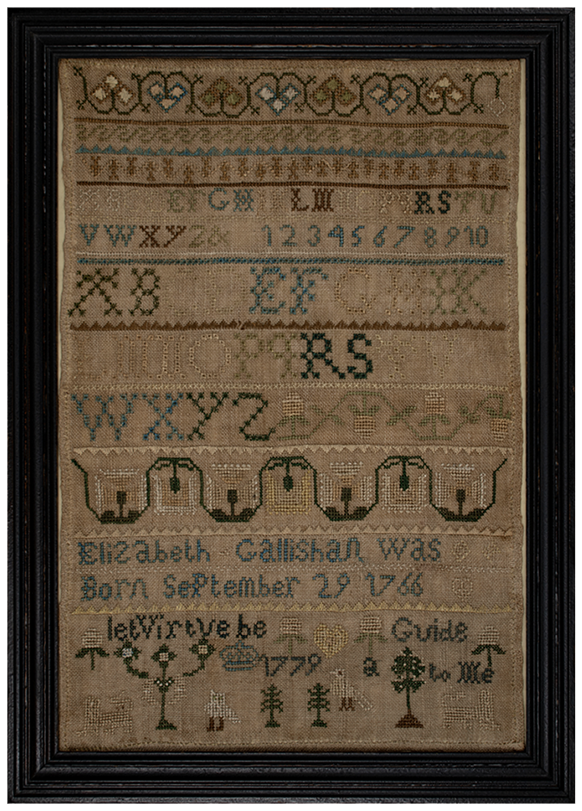 Elizabeth Gallishan