Nancy F. Strout,
Limington, York County, Maine, 1821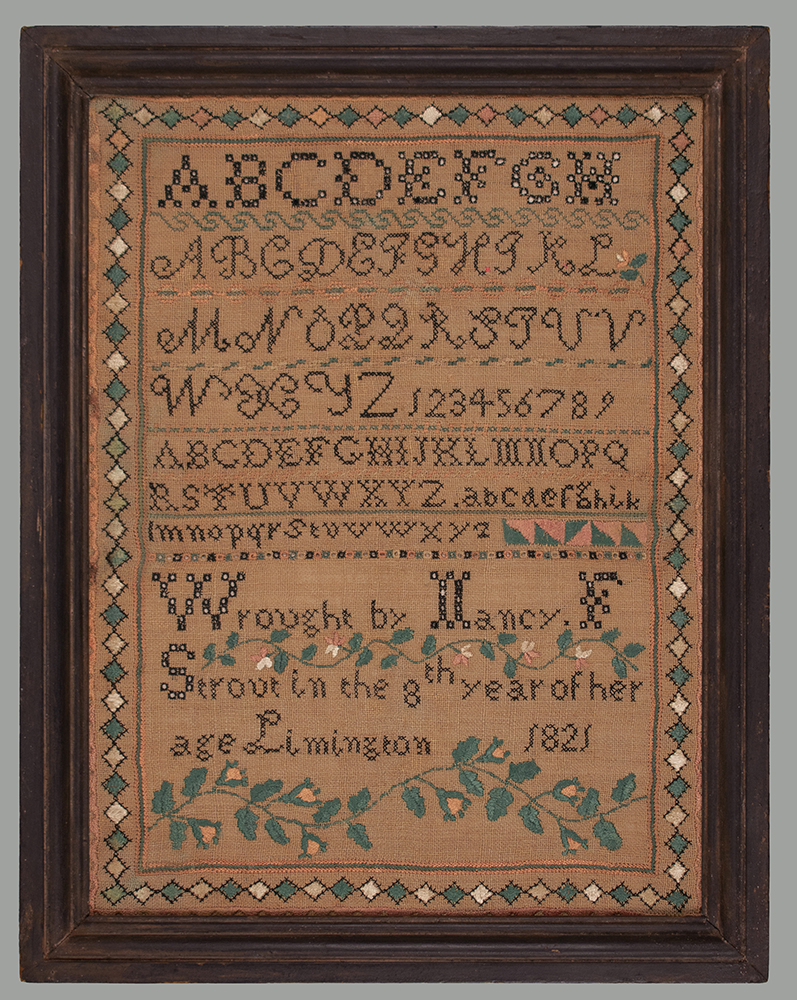 sampler size: 16" x 12" •
framed size: 19" x 14½" •
price:
$2900
This excellent sampler was made by Nancy Frost Strout of Limington, Maine in 1821; she was remarkably young at the time. Born on January 19, 1814, she was indeed 7 years old ("in the 8th year of her age"). Limington is west and a bit north of Portland; early industries included logging and gristmills along with farming. This small town is now recognized for its fine historic architecture. Nancy was the firstborn of nine children of Simeon and Esther (Frost) Strout. Both the Strout and Frost families had been in the area for generations and much information has been published. An extensive file of research accompanies the sampler.  
Nancy would have attended school and made her sampler under the instruction of a schoolmistress. The stitches used are varied and include the eyelet stitch for the largest letters and the upper-case letters of the inscription. Notably the horizontal line just above the inscription was also very carefully worked in eyelet stitches. Satin stitches form the splendid, embroidered garlands and diamond-shaped border. 
In 1832, Nancy married Enoch Billings Hobson (1810-1888), a lumberman and farmer of Buxton, Maine. They lived in Limerick, York County, Maine and had 8 children. Interestingly, much information about one of their sons, Simeon S. Hobson (1839-1922), is published in Montana, Its Story and Biography: A History of Aboriginal and Territorial Montana and Three Decades of Statehood Vol II by Tom Strout (The American Historical Society, 1921). In 1865, he headed west traveling by narrow-gauge railroad and then stagecoach. He ended up a very successful cattle man who also raised sheep, turning later to the agriculture of wheat. Nancy died in 1883 and is buried in Maple Hill Cemetery in Limington along with many family members.  
The sampler was worked in silk on linen and is in excellent condition. It has been conservation mounted and is in its original molded and painted black frame.