Mary Holyland,
First Balloon Flight Over the English Channel,
England, 1785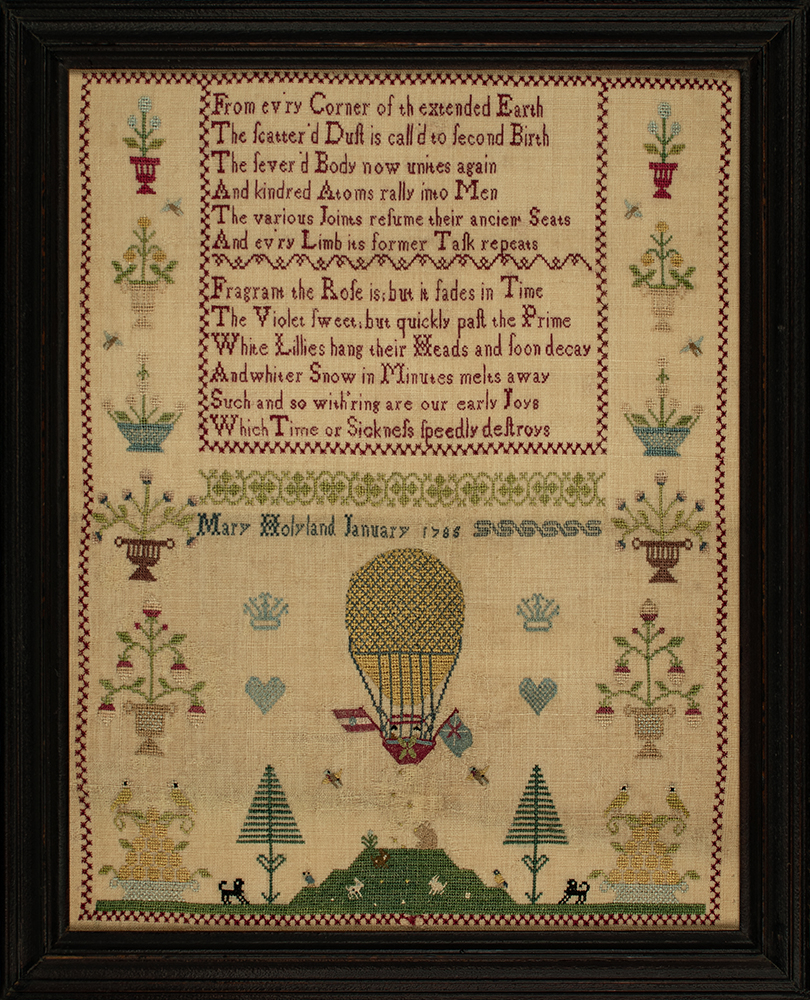 sampler size: 13¾" x 10¾" •
framed size: 16" x 13" •
sold
This is an extraordinary sampler, dated January, 1785; it precisely depicts and celebrates the flight of the first hot air balloon to cross the English Channel, which took place on January 7, 1785. The balloon, filled with hydrogen, was launched from the cliffs of Dover and landed in Calais; it was piloted by Jean-Pierre Blanchard, a Frenchman, and Dr. John Jeffries, an American. The taffeta covered balloon was 79 feet round, the flight took 2 hours and 47 minutes. There were serious risks at several different points during the flight and the pilots needed to jettison all instruments, gear and even their clothing to stay aloft. This sampler depicts the precise hot air balloon, with its diamond patterned net over the entire orb, the basket suspended by long cords. Of particular note is the fact that Mary included the two pilots and the English and French flags that flew from the basket (at least initially). She may have witnessed the flight as the sampler was made within weeks of the event. 
Mssr. Blanchard was a balloonist and Dr. Jefferies was a physician and scientist as well as the financial sponsor of the project. He is considered one of the first significant meteorologists and his birthday, February 5, is celebrated each year as National Weatherperson Day. 
Other than the depiction of the balloon flight, Mary's sampler is very much like the great majority of those made in England in the late 18th century with a carefully stitched verse from published sources, and fine symmetrical potted flowers, fruit baskets and birds. 
The sampler was worked in silk on wool and is in very good condition with some areas where loss to the wool has been secured and darned. It has been conservation mounted in a molded and black painted frame.