Margaret Latham,
Levens School,
Westmorland, England, 1839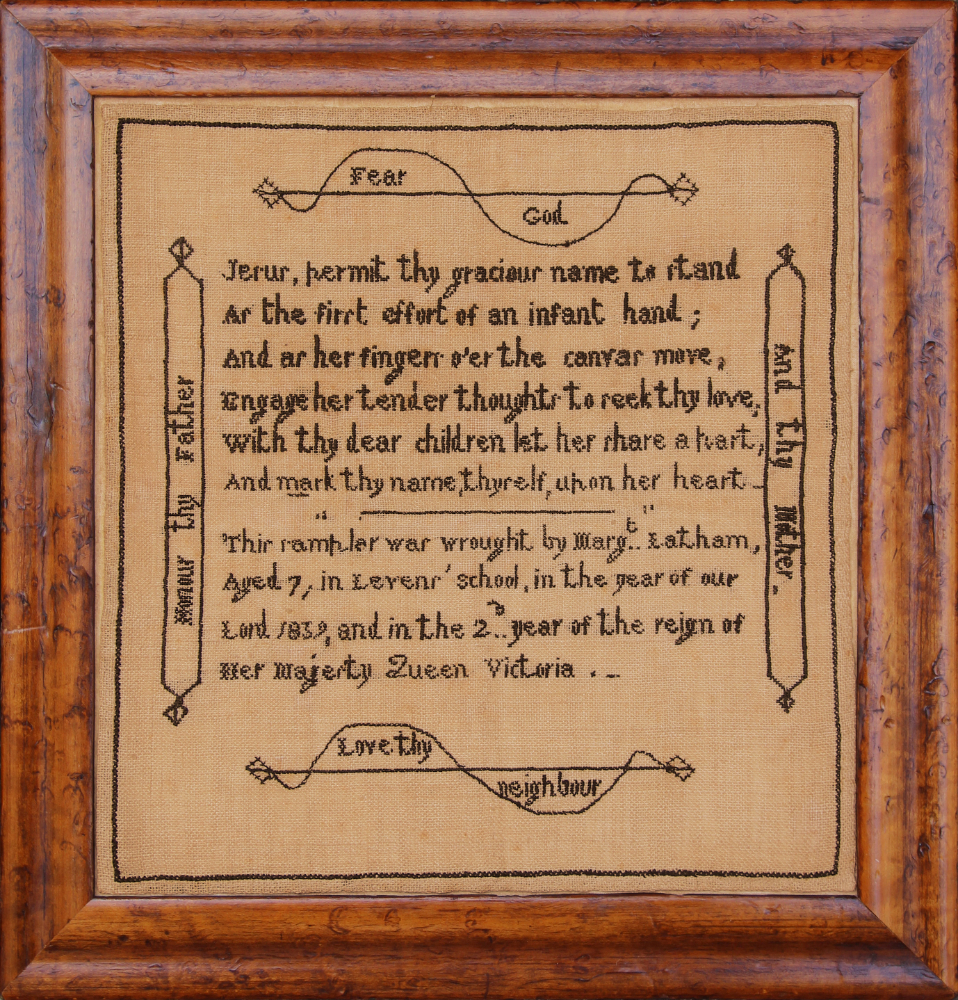 sampler size: 11" x 10½" •
framed size: 13¾" x 13¼" •
sold
This handsome, little sampler, with its strong, graphic composition, is wonderfully signed (using the archaic form of the letter s), "This sampler was wrought by Marg.t Latham, Aged 7, in Levens' School in the year of our Lord 1839, and in the 2nd year of the reign of Her Majesty Queen Victoria." This appears below the oft-used, religious, sampler verse which offers a prayer specific to the making of the sampler. The needlework is contained on four sides by classic phrases, "Fear God / Love Thy Neighbor / Honour thy Father / And thy Mother," each cleverly worked into a border format. Young Margaret stitched her delightful sampler with letter-perfect precision.
The Levens School was established in 1810 as a school for girls, in Westmorland, northern England; by 1819 a boys school was added. Margaret Latham was born there in 1832, the daughter of Thomas and Mary Anne (Yoell) Latham. Interestingly, many school records still exist and they indicate that her father was the schoolmaster / head of school at Levens beginning in 1841, for several years. The census of the same year confirms Thomas's occupation as schoolmaster.
On August 11, 1859, Margaret married Edward Warriner, also from Westmorland. The 1871 census indicates that she was a widow and farmer, living with her widowed mother, her son and daughter.
The sampler was worked in silk on linen and is in excellent condition. It has been conservation mounted and is in a period maple veneer frame.