Les Pensionnaires Pieuse,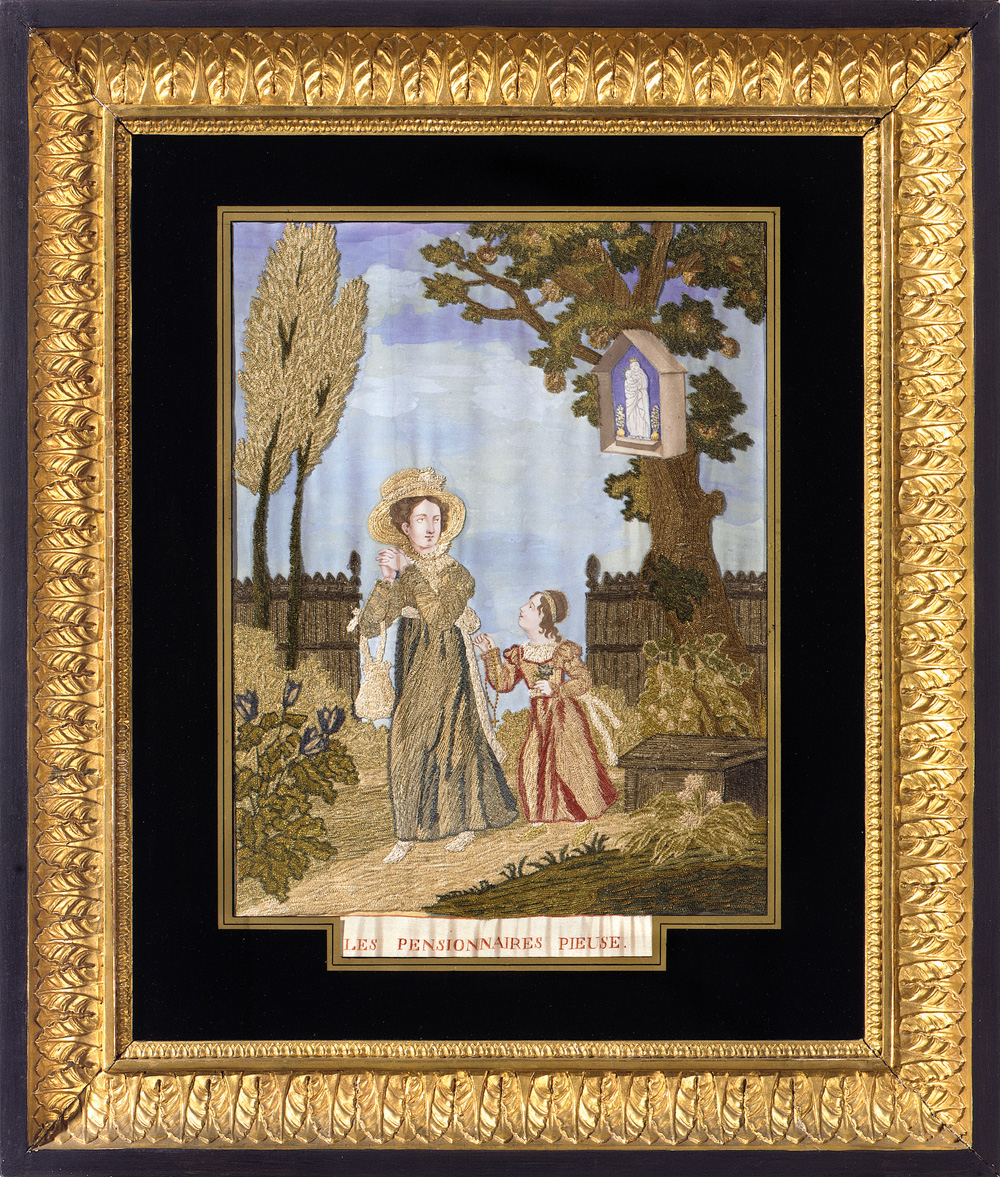 sight size: 12½" x 10" •
frame size: 21¼" x 18" •
price:
$4300
This splendid silk embroidered picture depicts "The Pious Pensioners," a young lady and a girl in an outdoor setting, with a little shrine set up in a tree. Accomplished in fine needlework and skillfully painted elements, it is an unusual and poignant subject. Rich chenille threads were used to great advantage providing shading and texture throughout. Some of the details to the setting include the large leafy fruit tree, graceful pair of silvery trees, the fine wooden fence and the large flowers in the foreground at left. Attention lavished on the two figures resulted in the fine bonnet and reticule to the woman, and the little flower and rosary beads held by the young girl, whose dress is punctuated with red and whose hair is caught up in a silk head band. The shrine, painted in watercolor, features Madonna and Child against an azure background. The gaze of the young lady is fixed upon this and her hands are clasped in devotion.
This extraordinary and praiseworthy frame is original to the embroidery, with extravagant carved and gessoed molding, finished in gold leaf and black paint. The framer's label remains on the backboard, most interestingly it is in both French and Dutch. The framer's workshop was P. Danckengny & Son and they specialized in high quality techniques and finishes; we can speculate that the family had shops in both France and the Netherlands.
The needlework was accomplished in chenille and silk on silk and it is in excellent condition with a replaced eglomisé glass mat.