Julia Ann Knox,
Family Record Sampler,
Charlestown, Massachusetts, 1837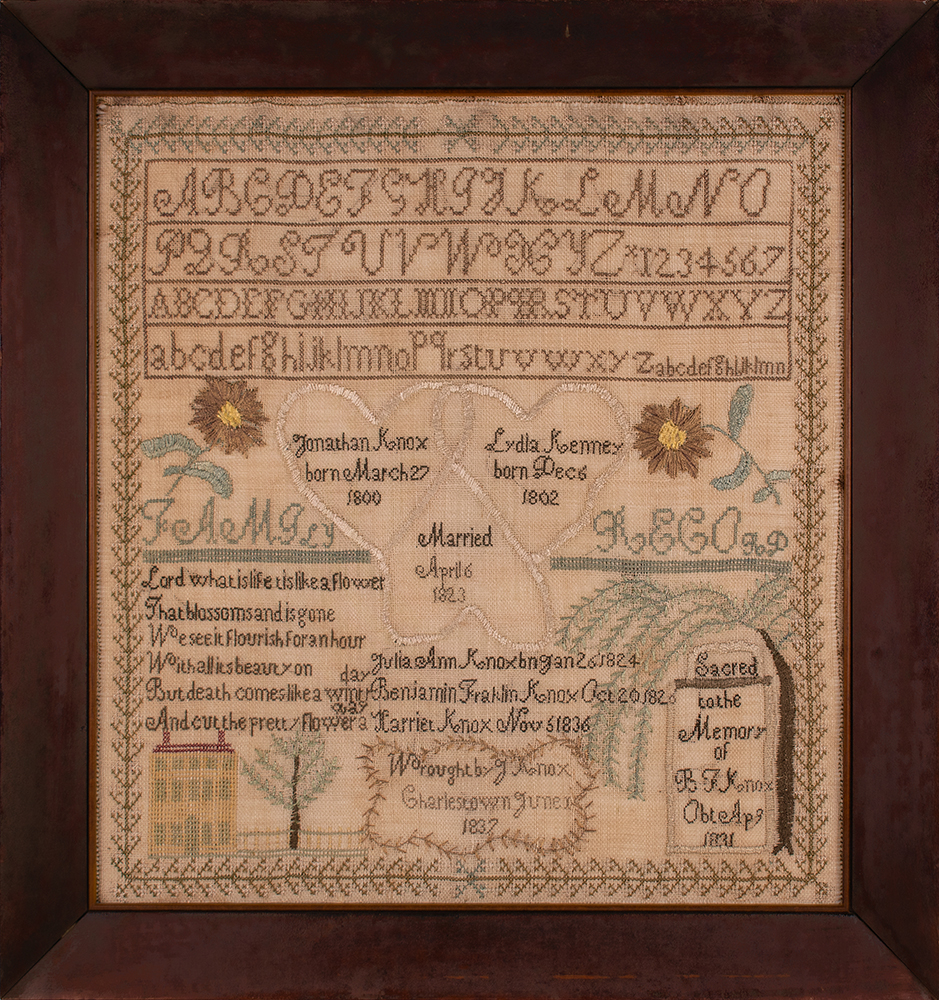 sampler size: 16¾" x 15½" •
framed size: 20½" x 19¼" •
price:
$7800
A particularly appealing group of Family Record samplers comes out of Charlestown, Massachusetts, and nearby towns. They were made in the 1820s and 30s and share a distinctive characteristic - three hearts, one upside-down, that are cleverly linked and enclose the names and birthdates of the samplermakers' parents and the date of their marriage. Other shared characteristics include the large blossom flowers and narrow border that frames the sampler on four sides. A sampler from this group, made by Eliza Ann Hunt in 1824, is in the Cooper-Hewitt / Smithsonian Museum. 
This sampler is signed, "Wrought by J. Knox Charlestown June 1 1837." Her parents were Jonathan Knox (1800-1886) and Lydia Kenney (1802-1877) who were married on April 6, 1823. Julia Ann Knox was their first-born child; her siblings listed on the sampler were Benjamin Franklin Knox and Harriet Knox. Benjamin's death in 1831 is memorialized on the sampler in the lower right corner. Jonathan Knox was a carpenter and joiner, listed in an 1838 Charlestown City Directory. The family lived, fittingly, at the corner of Joiner and Warren Streets. 
The Knox family has roots that extended back many generations in New England. Thomas (Nock) Knox of Dover, N.H. in 1652 and Some of His Descendants by W. B. Lapham (Augusta, 1890), documents the family well and the file that accompanies the sampler includes photocopies from this and many other sources. Notably, Julia's grandfather, Jonathn Knox (1758-1840), served in the Revolutionary War in Col. Joseph Cilley's New Hampshire Regiment.
In 1843, Julia married Ebenezer Averill III (1783-1869), as his second wife. He was a blacksmith, listed in an 1848 Charlestown Directory. They remained in Charlestown and had six children. Julia died in 1904. 
The provenance of this sampler is significant as well as it was in the highly regarded sampler collection of Joan Stephens. When this collection was sold at Sotheby's in January, 1997, Joan's dear friend and fellow collector, Betty Ring, wrote the foreword. And we should note that at that sale, this sampler sold for $13,800. 
Worked in silk on linen, the sampler is in excellent condition. It has been conservation mounted and is in a beveled mahogany frame.