Jane DeRonde,
Haverstraw, Rockland County, New York, 1829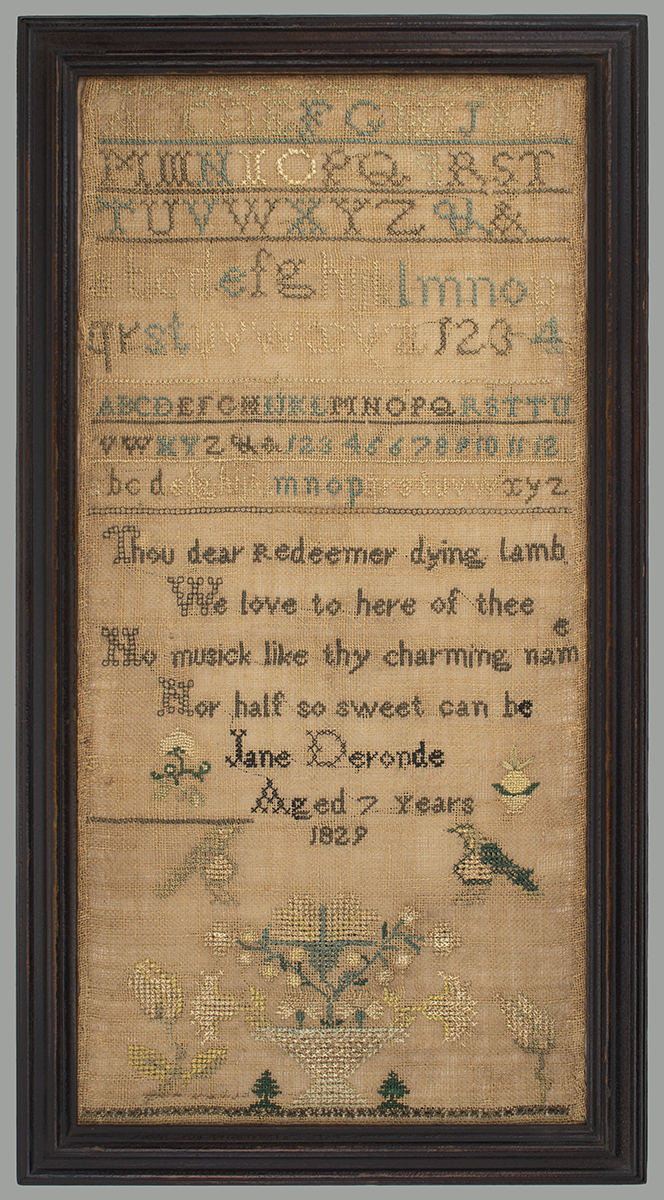 sampler size: 17¼" x 8¼" •
framed size: 19¼" x 10¼" •
price:
$900
Jane DeRonde's sampler is a very good example of the needlework of a young girl just beginning her education in samplermaking. As she stitched, she was "Aged 7 Years." She began with alphabets and progressed to a nicely worked religious verse before turning to a more complex flower basket with birds and little trees. A narrow edging of eyelet stitches grounds the bottom of the composition. 
The ancestry of the Deronde family is published in History of Bergen County, New Jersey by J M Van Valen, (New Jersey, Publishing, and Engraving Company, 1900); they were French Huguenots, who came from Holland after they failed to find asylum there. They were living in Cortlandt Manor, Westchester, New York, by 1720.
Jane was born July 21, 1822, to William and Rachel (Goetschius) Deronde. They lived in Rockland County, New York in 1830 and five years later removed to Hackensack New Jersey. In 1852, Jane married Peter Christie (1823-1892) and much information about that family is published in another book, History of Bergen County, New Jersey 1630 to 1923, (Lewis Historical Publishing Company, 1923). They had three sons, and Jane died in 1909. Along with family members, she is buried in Maple Grove Park Cemetery in Hackensack.
The sampler was worked in silk on linen and is in excellent condition. It has been conservation mounted and is in a molded and painted black frame.