Elizabeth McCoy,
Philadelphia, Pennsylvania, 1813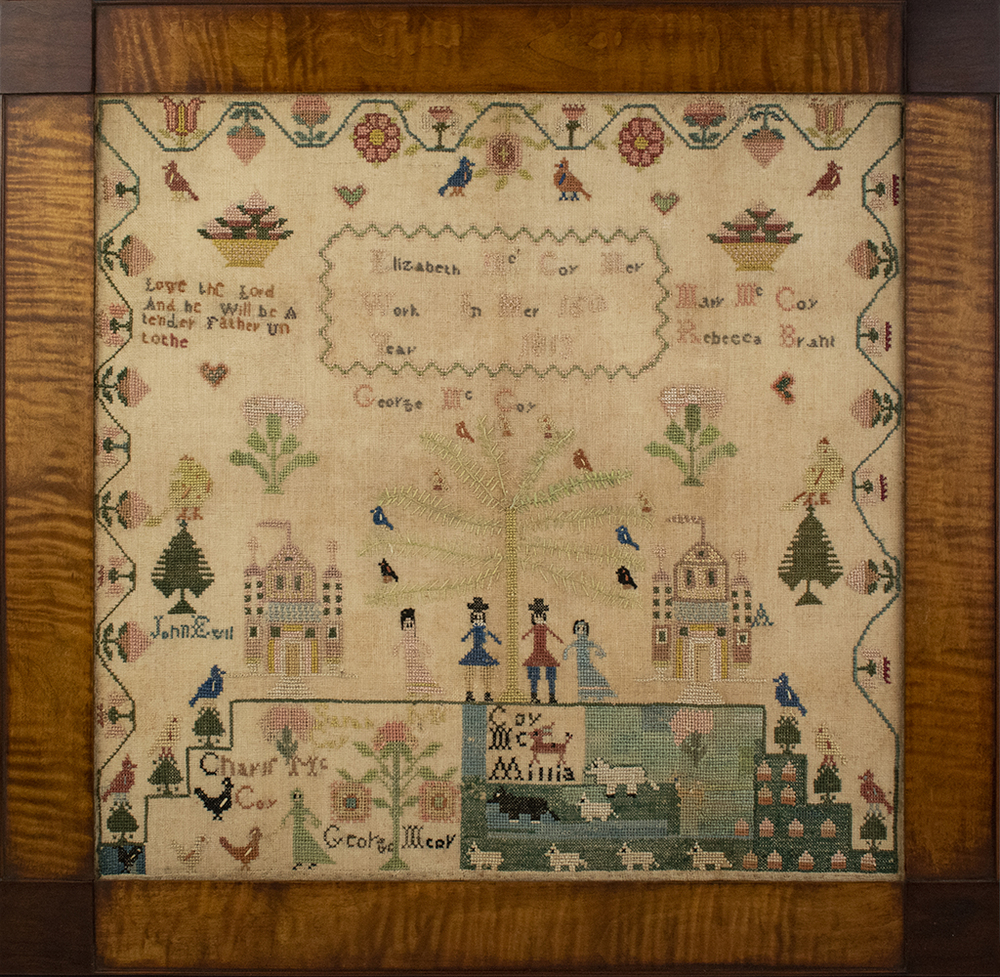 sampler size: 16½" x 17" •
framed size: 20¼" x 21" •
price:
$7800
Antique samplers that present a free form, folkier composition and execution are wonderfully appealing and we're pleased to offer this praiseworthy example, which is signed "Elizabeth McCoy Her Work In Her 15th Year 1813." Family members are named throughout the sampler and four figures are lined up under the tree which has many birds sitting on its frond-like leafy branches. The stepped-terrace construct that anchors the lower portion of the sampler is, in outline, similar to other Philadelphia samplers, but the use of many animals mixed in with names, a lady who may be feeding chickens and a colorblock area suggesting a field for sheep, is unusual. Sitting on the steps of this terrace are fat evergreen trees, each with a large bird on top, again, an uncommon application. Four of these birds make appearances near the top of the sampler, just under the top border, which is itself unlike most sampler borders. 
From the middle of the 18th century on, many Philadelphia samplers were signed with the first letter of each word worked in the upper case and in a contrasting color. Elizabeth employed this tradition when stitching her inscription and many of the family names. While we don't know a great deal about the family, Philadelphia church records indicate that George and Mary McCoy belonged to the Second Presbyterian Church. We also came across the wonderfully named John Evil, born 1786 and died 1843, also in Philadelphia. The search continues for more information about this family. 
The sampler was worked in silk on linen and is in excellent condition. It has been conservation mounted and is in a maple and cherry cornerblock frame.