Eliza R. Fountain,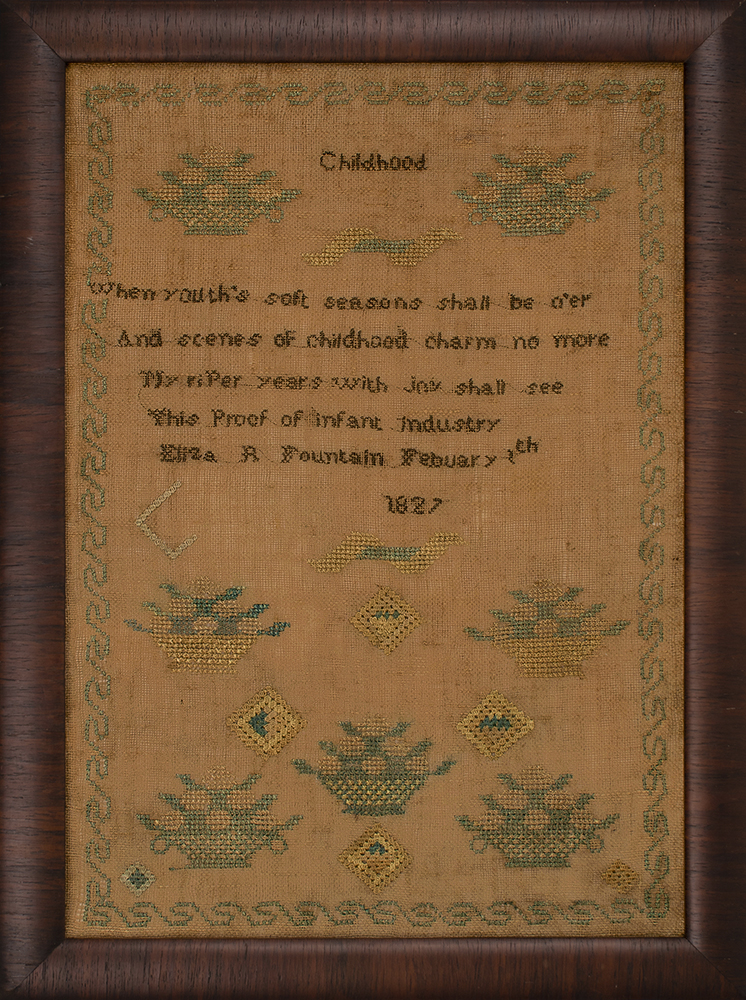 sampler size: 12¾" x 9¼" •
framed size: 15" x 11" •
sold
Eliza Ross Fountain, age 9 and living in New York, made this engaging little sampler that features one of our favorite verses. Entitled, "Childhood," it extolls, "this proof of infant industry," – the sampler itself. Six nicely worked baskets of fruit and several diamond-shaped elements accomplished in the queen's stitch provide all the proof necessary of Eliza's industry.
The Fountain (originally de la Fontaine) family descended from French Huguenots who settled Staten Island by 1658. Historical information about the family is published in Morris's Memorial History of Staten Island New York by Ira K. Morris (Staten Island, NY 1900). Eliza was born on October 24, 1818 to Gideon and Maria (Slover) Fountain of Staten Island, New York. Gideon was a Harbor Master of the Port of New York for many years and the family lived at Quarantine, on Staten Island.
Eliza remained single and lived with family members in Brooklyn for many years. She died in 1900 and her obituary was published in The Brooklyn Daily Eagle. Eliza and many family members are buried in historic Green-Wood Cemetery in Brooklyn.
The sampler is surrounded by a neatly worked narrow border on four sides. Eliza placed the first word of the verse a bit too close to the left edge of the sampler and had to interrupt her border to accommodate this. 
Worked in silk on linen, the sampler is in excellent condition. It has been conservation mounted and is in a 19th century veneer frame.