Ede Tapley,
Acrostic Sampler, Danvers, Massachusetts, 1808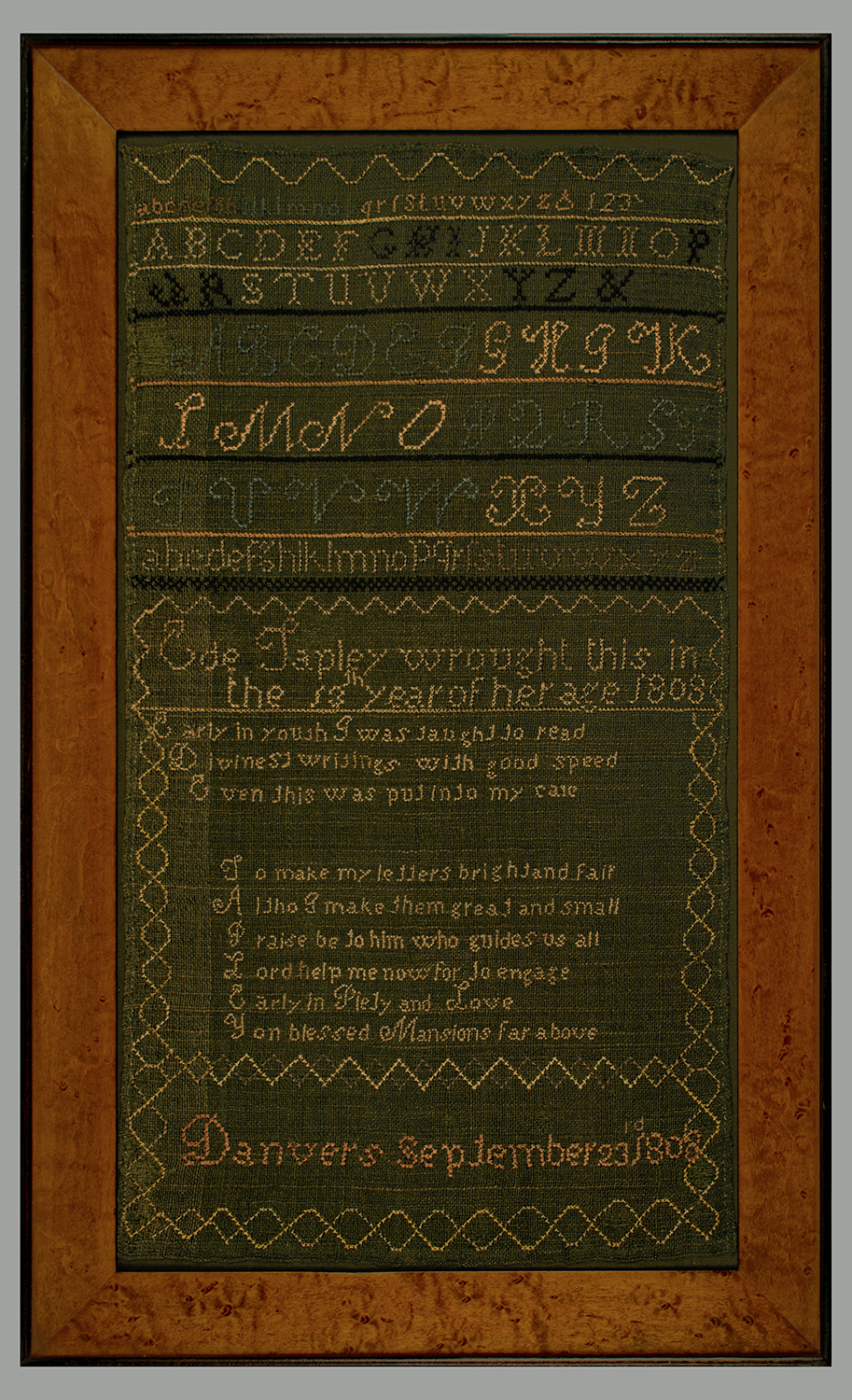 sampler size: 17¾" x 9¾" •
framed size: 20¾" x 12¾" •
sold
One of the more unusual and delightful sampler genres is the acrostic – in which a specific poem was composed using the samplermaker's name as the first letter of each line. Ede Tapley's name can be read in this way on this excellent sampler which was worked on linsey-woolsey. Additionally, she provided the name of her town, signing it, "Ede Tapley wrought this in the 13th year of her age 1808" and "Danvers September 23rd 1808." The fact that she used a lovely green linsey-woolsey is also to the great advantage of her sampler. 
Genealogy of the Tapley Family, compiled by Harriet Silvester Tapley (Danvers, Massachusetts, 1900) provides much information about the samplermaker and the history of the family. Gilbert Tapley (1634-1714) and his wife, Thomasine, were in Massachusetts by 1676, when he was a seaman and fisherman in Beverly. By 1680, they were living in Salem, where Gilbert became constable and a juryman, earning a living as a tavern owner and innkeeper. The very interesting inventory of his estate from 1714 along with other family deeds of that period are published in this book; photocopies are included in the file that accompanies the sampler. 
Ede was born six generations later, on August 17, 1796, 10th of 11 children of Amos Tapley (1748-1835) and Hannah Putnam Preston (1754-1825) in Danvers. Amos served as sergeant in the Lexington Alarm and remained in service until 1778. He was very active in the affairs of the town, serving as highway selectman and assessor, tax collector and tythingman. Interestingly, he was, "identified with schools from their establishment in the town." Notations from town records dating from 1783 to 1813 indicate his contributions to the education of the children of Danvers. He also owned shares in the Danvers Social Library. 
Ede married Dr. David Augustus Grosvenor in 1839, in Reading, Massachusetts, and died one year later, in 1840. She is buried in Riverside Cemetery in North Reading. 
The sampler was worked in silk on linsey-woolsey and is in excellent condition, with some very minor stabilizing to the fabric. There was a slight color shift in the original weaving of the fabric, noticeable along the left side. It has been conservation mounted and is in a beveled, maple frame.