Caroline Agness Postlewait,
St. Mary's School, Somerset, Perry County, Ohio, 1847
sampler size: 17¼" x 16½" •
framed size: 19¼" x 18½" •
sold
We are pleased to offer this interesting sampler, which was made at an early Catholic school in Ohio. The school was documented in Ohio Is My Dwelling Place Schoolgirl Embroideries 1800-1850 by Sue Studebaker (Ohio University Press, 2002) but this is the first sampler known to have been made at the school. The inscription line, second from the bottom and worked in tan silk floss, reads,
"Caroline Agness Postlewait St. Mary's School Dec 28th AD 1847."
Additionally, the place name, "Somerset Ohio" appears at the right near the middle of the sampler. 
While the sampler doesn't offer strong aesthetics, it is finely stitched and, in its own way, an excellent document of early Ohio culture. St. Mary's was founded in 1830 by a group of four Dominican sisters. It was one of the first Catholic schools in Ohio and educated children of pioneer families of all faiths. The Metropolitan Catholic Almanac and Laity's Directory for the United States, Canada, and British Provinces 1861, includes a description of the school, stating it was,
 
"situated in a healthy and delightful part of the country … the course of education embraces every useful and ornamental branch suitable for young ladies." 
Caroline Agness Postlewait was born on March 13, 1834, in Newark, Licking County, Ohio. She was the 8th of 10 children of Joseph and Margaret (Glisson) Postlewait, who were married in Virginia in 1816. Joseph was a well-to-do farmer and the family lived about 20 miles from Somerset, where Caroline attended school. She was likely a boarding student. In 1856, Caroline married Claudius Tardivelle (1829-1896), a native of France and a widower. They removed to Atchison County, Missouri and had at least five children between 1860 and 1872. 
An Atchison County, Missouri published history (St. Joseph, Mo.: National Historical Company, 1882) indicates that Claudius arrived in the United States in 1848, living initially in Kentucky where he earned the trade of house carpentry, removing later to Atchison County, Missouri. "He built a beautiful residence, and now has a fine orchard and a large vineyard of all varieties of grapes, etc. Mr. T. has become a thorough English scholar and enjoys reading the current literature of the day. He is one of the representative men of the township and a leading man in the county." 
The sampler was worked in silk on linen and in overall good condition; the needlework is in excellent condition. It was likely unframed and folded for many years as the horizontal fold line caused fibers to become weak. Conservation mounting has stabilized this area. It is in a molded, mahogany frame.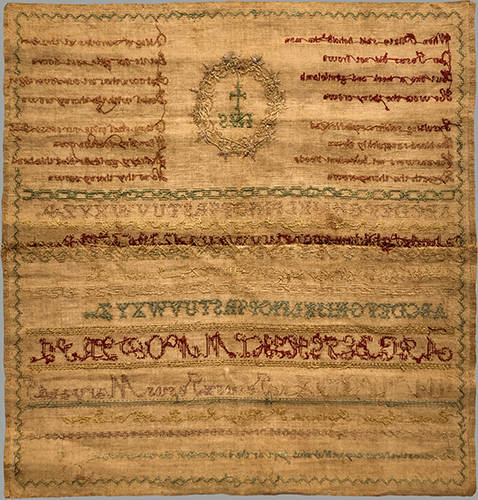 photo of reverse