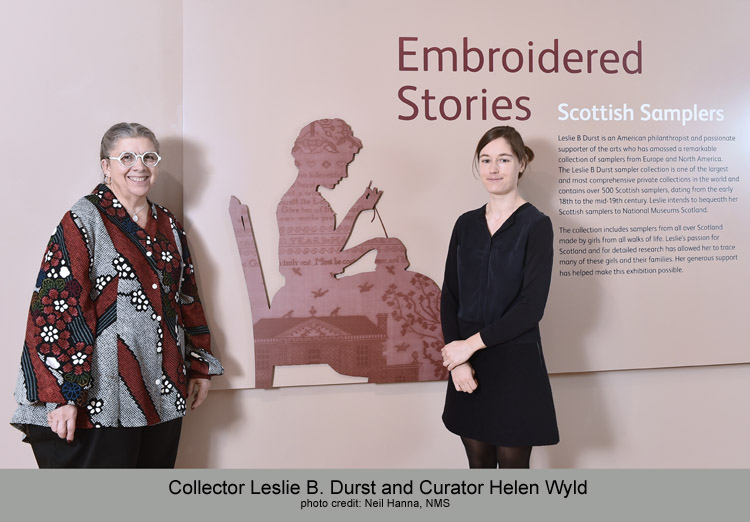 An extraordinary exhibition of Scottish samplers, all of them on loan from the equally extraordinary collection of American collector, Leslie B. Durst, opened at the National Museum Scotland on October 26, 2018; it will remain on view until April 21, 2019. I was fortunate enough to be invited to attend the opening and I encourage sampler collectors, scholars and enthusiasts from near and far to travel to Edinburgh to spend time at this outstanding exhibition. The collection of Ms. Durst is considered to be the most significant private collection in the world; the website antiquesamplers.org shares a great number of the samplers from this collection which is known for its highly important American, English and Scottish examples.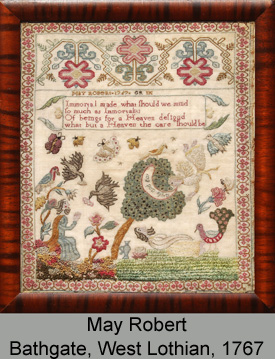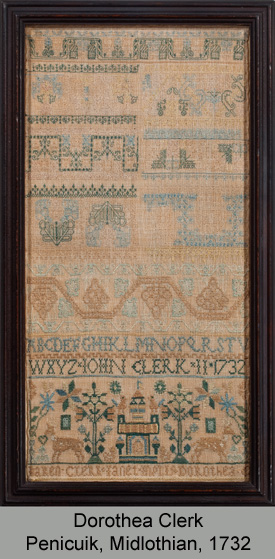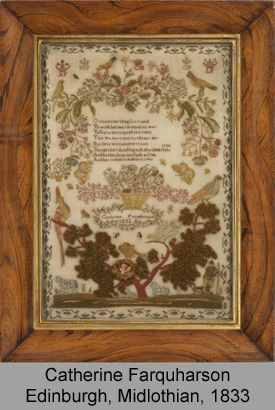 Scottish samplers are almost always signed and frequently the names of the samplermakers' parents are included within the stitching; notably Scottish women often retained their names after marriage and this serves as a great help when researching and identifying samplermakers. Initials of other family members stitched on the samplers can also be extensive, allowing for further genealogical study. The research conducted by Ms. Durst and her team over decades is very impressive in both its depth and breadth. The family histories are fascinating and the exhibition catalogue, written by museum curator Helen Wyld, includes many captivating stories of family ties along with histories of the teachers and schools, as many samplermakers also credited their schools and instructresses directly on their samplers, too. The catalogue will serve as a highly valuable resource for years to come.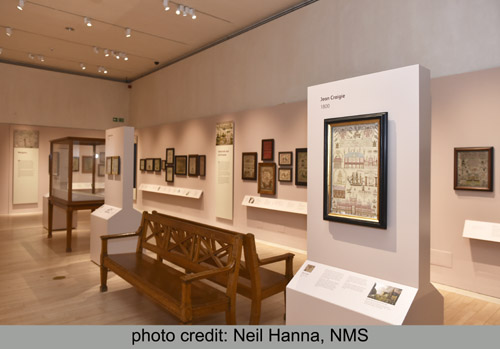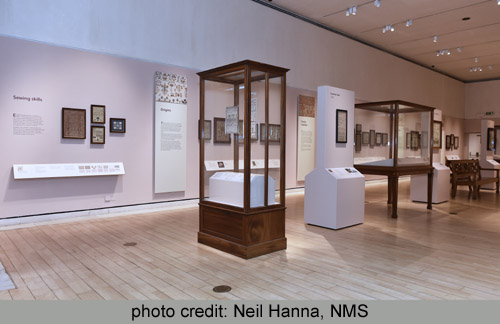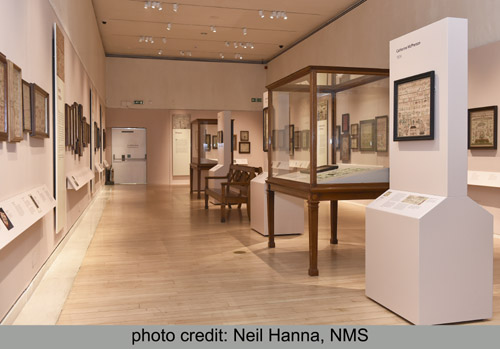 The exhibition includes 75 samplers made from 1732 to 1877. The social histories of the samplermakers range widely. One young lady is from a titled family - Dorothea Clark, whose 1732 sampler is considered highly significant – and another, Agnes Douglass, worked her modest little sampler in 1839 while attending Dr Bell's School in Aberdeen, a school that provided education to the poorest of students. Remarkably, a group of twelve samplers from generations of the Swan family of Fife between 1748 and 1790, has remained together for these many years and is included in the exhibition. And to note, one American sampler is exhibited: it was made by Catharine McPherson in 1836 in a settlement populated primarily by Scottish people in Monroe County, New York where her Scottish-born parents resided after they emigrated. Catharine's sampler bears a strong resemblance to samplers made in Scotland and it's likely that her teacher was from Scotland, as well.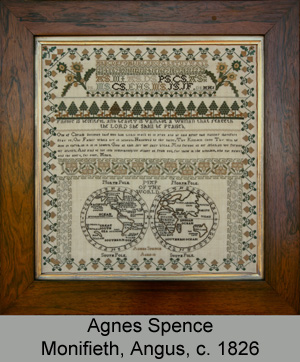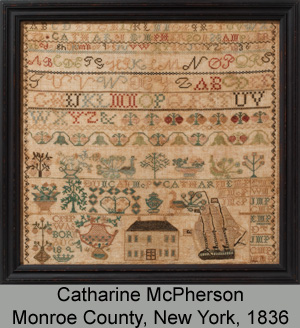 A study of the samplers reveals depictions of a wonderful assortment of unusual visual images: double-hemisphere maps of the world, a multiplication table, fully rigged sailing ships and unusual animals such as a pair of zebras and a lion. Coats of arms are well represented, too, and include that of Great Britain, those of various cities and families and even that of Edinburgh's Company of Fleshers, as butchers were then known. Biblical scenes such as the sacrifice of Isaac, Elijah feeding the Ravens, the Spies of Canaan and, of course, Adam and Eve are included. Scottish schoolgirls are renowned for including outstanding architectural depictions within their needlework and many samplers exhibited include prominently featured renderings: specific castles, a royal infirmary, an orphan hospital, town halls, bridges and a great number of large manor houses.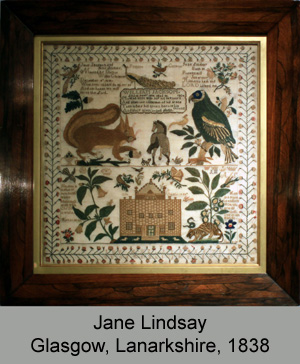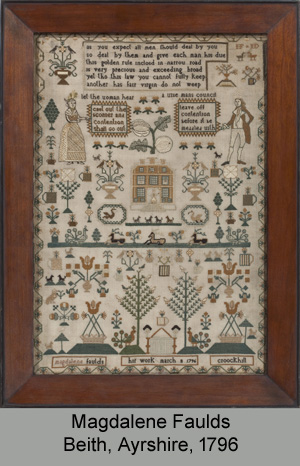 Some of the samplers that were made in the middle of the 19th century have interesting variation in the materials used – one sampler that was worked in Fife, circa 1860 is worked on a beautiful red-dyed wool and another, made in 1848 in Glasgow, is worked in tiny glass beads which form all of the lettering and pictorial images as well as the house, flower baskets, trees and birds.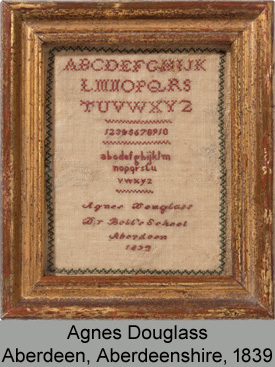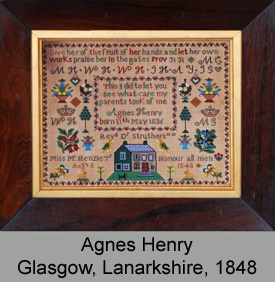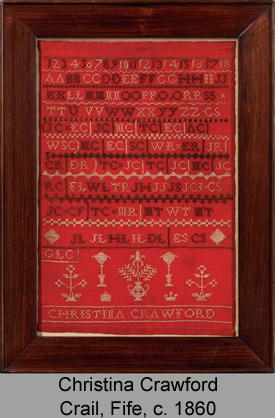 This exhibition has received considerable coverage in the press, both articles (this one in the Scottish Field) and BBC broadcasts about the exhibition including interviews with Ms. Durst (beginning at 19:30 of the full two-hour show) and curator, Helen Wyld.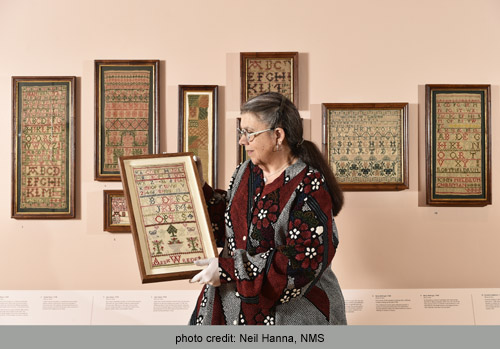 The exhibition catalogue includes color images along with specifics about each sampler, every samplermaker and many teachers and schools. It is available from the museum and we have a handful, as well, available for sale. A conference at the museum is scheduled for March 21, 2019 offering a day of lectures by curators and scholars in the field. More information will be available on their website.
*Unless otherwise noted, credit for above photos is courtesy of M. Finkel & Daughter, Phila PA.