Juliet Eliza Sollers Baltimore, Maryland, 1814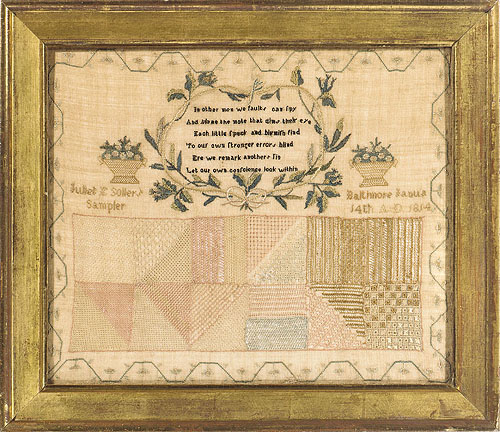 sold
The Maryland Historical Society presented a praiseworthy exhibition entitled "Maryland Schoolgirl Samplers and Embroideries 1738 – 1860" in 2007. Noted needlework scholar and author, Dr. Gloria Seaman Allen, curated this show and revealed the great depth and breadth of the samplers and needlework from this colony and then state. Juliet Eliza Sollers' important sampler, notable for its unusual blocks of patterns, was included in this exhibition. Dr. Allen's accompanying book, A Maryland Sampling: Girlhood Embroidery 1738 – 1860 (The Press at the Maryland Historical Society, 2007), stands as one of the most scholarly books in the field of schoolgirl needlework, covering substantially more than was exhibited. Dr. Allen illustrated our Sollers sampler as the frontispiece of her book and we feel that her words describe this sampler best:
In 1814, ten-year-old Juliet Sollers (1804-1853) worked a sampler, remarkable for its blocks of delicate pulled thread patterns, stitched in polychrome silk rather than white linen thread. The patterns are part of the tradition of Dresden work, a form of embroidered lace that first developed in Saxony and was commercially traded in Dresden . The technique was taught in colonial girls' schools beginning in the 1750s.
Juliet was the only child of Sarah Partridge and Elisha Sollers (1770-1809), who resided at "Sollers Point" on the Patapsco River in Baltimore County . On November 3, 1824 , Juliet Eliza Sollers married Dr. Augustine Taney in Baltimore , and they eventually settled in Emmitsburg. According to the federal census, in 1850 the couple had three children.
Her father's 1809 will directed that she should receive an "education as liberal as interest of estate admits and [at] one of the best, most eligible schools." Years later, when Juliet recounted for her grandchildren the British attack on Baltimore in September 1814 that burned the family homestead, she recalled that she and her governess had hidden in the shrubbery to avoid detection. Juliet had completed her sampler just eight months earlier, quite possibly under the direction of this governess rather than in the formal setting of a classroom.
A copy of this book accompanies the sampler along with its research file. Worked in silk on linen, the sampler is in excellent condition. It has been conservation mounted and is in a period gold leaf frame.
Sampler size: 14¼" x 17¼"