Elizabeth Ann Caughy, "Busy Yard Sampler" Baltimore, Maryland, 1827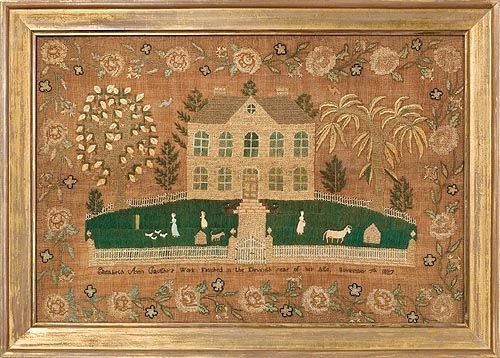 sold
along with the sampler by her sister, Sarah Caughy, at Mrs. Burke's school,
Pacca St., Baltimore, 1821
Amongst the most visually commanding of all of the fine samplers made in Baltimore are the "Busy Yard Samplers"; these have been well documented by Gloria Seaman Allen in A Maryland Sampling: Girlhood Embroidery 1738-1860 (Maryland Historical Society, 2007), as well as by Betty Ring in Girlhood Embroidery: American Samplers & Pictorial Needlework 1750-1850 (Knopf, 1993). These are large, superbly worked samplers which depict fine building and elaborate lawn scenes populated with female figures, animals and outbuildings, worked in the 1820's and later. The best of these samplers feature a splendid five-bay house with a gracefully curved railing at its front stair and with large, distinctive palm trees and other deciduous and evergreen trees flanking the house. Rich green lawns form a fine contrast to the people and animals that define this group and these figures are generally worked in a padded or raised stitch. Precisely worked white picket fences edge the lawns, while lush floral borders frame the samplers.
The samplermaker was Elizabeth Ann Caughy, who was ten years old when she worked this outstanding sampler. Born in November, 1816, she was the daughter of Patrick and Elizabeth ( Dixon ) Caughy who were married in Baltimore in 1800. Patrick was the proprietor of a grocery and dry goods shop in central Baltimore . In 1840, Elizabeth married a cousin, John Henry Caughy, and notice of this was reported in The Baltimore Sun. They remained in Baltimore , where John was a clothier merchant. They raised six children and Elizabeth died in 1909.
Quite remarkably, a sampler made by Elizabeth 's older sister Sarah Caughy, when she seven years old in 1821, accompanies the "Busy Yard Sampler." It is large and includes many complex stitches, quite an accomplishment for such a young girl. In tiny stitches, the sampler is inscribed, "Sarah Caughy's Work [D]one in the Sevent[h] Year of Her Age in The Year Of Our Lord One Thousand Eight Hundred And Twenty One At Mrs. Burke's School Pacca St." Mrs. Burke's school was not previously known to scholars in this field and she may well have been the instructress responsible for the "Busy Yard Samplers." Recent research has uncovered listings in Baltimore directories for Mrs. Margaret Burke's school from 1816 through 1833. Sarah married Noah Dixon Walker, a prominent clothier merchant and friend of John Henry Caughy. We are very grateful to Wendy White, independent historian, for the discovery of this sampler and for her research.
Elizabeth Ann's sampler was worked in silk on linen and is in excellent condition. It has been conservation mounted and is in a fine early 19 th century gold leaf frame. Sarah's sampler was also worked in silk on linen. It is in very good condition with some areas of slight loss. This sampler has been conservation mounted and is in a painted frame.