Catharine Louisa Cornell, age 10, Allentown, New Jersey, 1820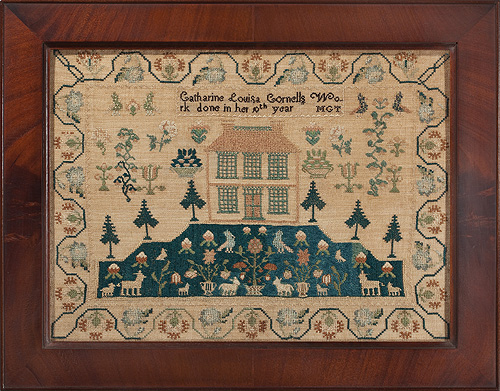 sold
The maker of this outstanding sampler was Catharine Louisa Cornell, a young lady from a highly distinguished American family. Born on October 18, 1810, she was the seventh of the twelve children of the Reverend John Cornell and Maria Frelinghuysen Cornell who resided in Somerset County, New Jersey, where Rev. Cornell was a pastor and leader of the Presbyterian Church. Much has been written about Rev. Cornell who was a respected minister and classics teacher. The research and genealogical file that accompanies this sampler is very detailed and includes a copy of Rev. Cornell's will, along with detailed family information from many published sources.
Catharine's maternal grandfather was General Frederick Frelinghuysen (1753-1804), an early graduate of and tutor at Princeton University, a highly respected colonel in the Battles of Trenton, Princeton and Monmouth, New Jersey, a delegate to the Continental Congress at Philadelphia, and a United States senator from 1793-96. He was considered amongst the most supportive of Revolutionary patriots and, upon the death of Gen. George Washington, delivered his eulogy in New Brunswick. Catharine's mother was also distinguished and is noted for having founded one of the earliest American temperance organizations and for her many leadership roles in church and civic affairs.
The sampler features a stately two chimney federal house, flanked by six pine trees, set on a stepped terrace lawn. The composition indicates a strong influence from Philadelphia samplers, which are well discussed by Betty Ring in Girlhood Embroidery, Philadelphia in the Federal Period, Samplers with Mansions and Terraced Gardens (volume II, pages 361 – 369). Catharine embellished her lawn with an abundance of animals and plants arranged in a balanced fashion. Additionally, flowers, birds, and baskets decorate the rest of the sampler and they are all surrounded by a handsome border, which also clearly echoes the design of the borders found on many Philadelphia samplers made from 1750 on.
The initials "MGT" refer to the instructress, Mary G. Taylor, who can be indentified from another very similar sampler, also made by a New Jersey girl, dated 1824. Under the capable tutelage of this talented teacher, Catharine Louisa Cornell, a very young needleworker, created quite an impressive sampler.
The sampler was worked in silk on linen and is in excellent condition, conservation mounted into a mahogany frame. 
Sampler size: 12¼" x 16¾"      Frame size: 16¼" x 20¾"
This sampler is from our archives and has been sold.